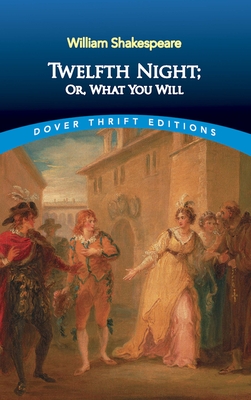 Twelfth Night (Paperback)
Dover Publications, 9780486292908, 80pp.
Publication Date: January 10, 1997
Description
A delightfully comic tale of mistaken identities, Twelfth Night revolves around the physical likeness between Sebastian and his twin sister, Viola, each of whom, when separated after a shipwreck, believes the other to be dead. The theatrical romp begins when Viola assumes the identity of Cesario, a page in the household of the Duke of Orsino. The Duke is enamored of the Countess Olivia, who spurns him for the newly arrived young page. The comical machinations of Malvolio, Sir Toby Belch, the maid Maria, and Sir Andrew Aguecheek add to the ensuing confusion -- all of which is pleasantly resolved when Viola and Sebastian meet once again. Filled with some of the finest comedic scenes in the English language, this entertaining masterpiece remains one of Shakespeare's most popular and most performed comedies.
About the Author
"He was not of an age, but for all time," declared Ben Jonson of his contemporary William Shakespeare (1564-1616). Jonson's praise is especially prescient, since at the turn of the 17th century Shakespeare was but one of many popular London playwrights and none of his dramas were printed in his lifetime. The reason so many of his works survive is because two of his actor friends, with the assistance of Jonson, assembled and published the First Folio edition of 1623.
Advertisement