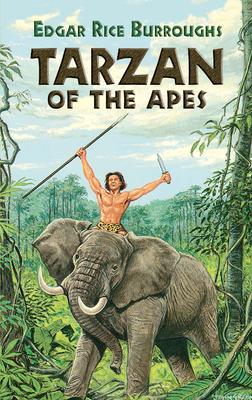 Tarzan of the Apes (Dover Thrift Editions)
Paperback

* Individual store prices may vary.
Other Editions of This Title:
Digital Audiobook (6/26/2014)
Digital Audiobook (5/2/2016)
Digital Audiobook (4/11/2012)
Paperback (7/22/2020)
Paperback (5/5/2016)
Paperback (7/23/2018)
Paperback (9/23/2018)
Paperback (7/5/2020)
Paperback (1/3/2020)
Paperback (9/1/2004)
Paperback, Italian (5/16/2018)
Paperback (12/8/2018)
Paperback (7/3/2003)
Paperback (9/29/2018)
Paperback (9/16/2017)
Paperback (6/3/2020)
Description
Having failed in a number of occupations as a young man, Edgar Rice Burroughs (1875-1950) found his niche as a writer with Tarzan of the Apes, first published in 1914. Highly imaginative, exotic and suspenseful, the story tells of an infant -- the son of an aristocratic English couple -- abandoned when his parents die in the jungles of Africa. Rescued and reared by apes, he learns to speak their language and imitate their ability to travel swiftly through the treetops.
Eventually, his courage, immense strength and exceptional intelligence earn him the respect and admiration not only of the apes, but of all the creatures of the jungle. The ape-man's story is told here in this classic, fast-paced novel, packed with riveting adventures as Tarzan avenges the killing of Kala, his ape-mother, subdues man-eating beasts of the jungle, meets and falls in love with the beautiful Jane Porter, vanquishes greedy pirate-adventurers, and deals with assorted other threats.
Although Burroughs followed this story with many Tarzan sequels, it is doubtful if any ever equaled this novel for its originality, readability and sheer storytelling power. In this inexpensive edition, complete and unabridged, it will thrill a new generation with the legendary exploits of the "Lord of the Apes."
Dover Publications, 9780486295701, 224pp.
Publication Date: April 14, 1997