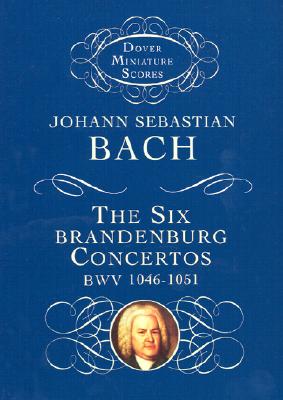 The Six Brandenburg Concertos (Dover Miniature Scores) (Paperback)
Dover Publications, 9780486297958, 192pp.
Publication Date: July 10, 1997
* Individual store prices may vary.
Description
This Dover edition makes available in miniature format Bach's six Brandenburg Concertos, composed while he served as Kapellmeister to Prince Leopold of C then from 1717 to 1723.
In these masterpieces -- dedicated in 1721 to the Margrave Christian Ludwig of Brandenburg -- Bach abandoned the standard type of concerto grosso in favor of a variety of solo combinations, resulting in music of intense, appealing originality, complex textures and development, and unprecedented instrumentation. Among the most frequently performed and recorded in the entire repertoire, the concertos are reprinted here from the definitive Bach-Gesellschaft edition. They include No. 1 in F Major, No. 2 in F Major, No. 3 in G Major, No. 4 in G Major, No. 5 in D Major, and No. 6 in B-flat Major.
These six works are published in full score with bar-numbered movements. Ideal for study in the classroom, at home, or in the concert hall, this affordable, high-quality, conveniently sized volume will be the edition of choice for music students and music lovers alike.
About the Author
Composer, organist, and harpsichordist, Johann Sebastian Bach (1685-1750) was a major figure of the Baroque period. An accomplished violinist, he created many popular works for the instrument.