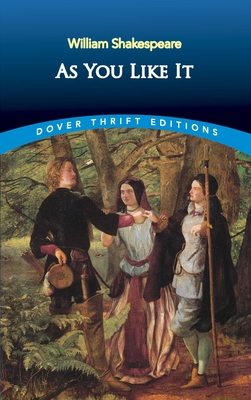 As You Like It (Dover Thrift Editions) (Paperback)
Dover Publications, 9780486404325, 96pp.
Publication Date: June 18, 1998
Other Editions of This Title:
Paperback (12/18/2016)
Paperback (5/10/2015)
Paperback (2/7/2014)
Paperback (7/20/2018)
Paperback (11/29/2015)
Paperback (10/1/2011)
Paperback (11/16/2017)
Paperback (5/12/2017)
Paperback (9/14/2017)
Paperback (7/27/2018)
Paperback (12/24/2015)
Paperback (8/14/2018)
Paperback (7/24/2018)
Paperback (1/7/2018)
Paperback (5/9/2019)
Paperback (7/20/2018)
Paperback (8/23/2018)
Paperback (9/27/2013)
Paperback (6/16/2016)
Paperback (11/30/2017)
* Individual store prices may vary.
Description
Unjustly deposed by his younger brother, the rightful duke retreats to the Forest of Arden and forms a utopia with his loyal followers while his daughter remains at court as a companion to her cousin. When forbidden romance enters their lives, the girls assume disguises and flee to the forest, where they encounter a magical world of friendly outlaws and wise fools. Both a lighthearted comedy and a deeper exploration of social and literary issues, this play features a memorable cast of characters and some of Shakespeare's finest poetry.
About the Author
"He was not of an age, but for all time," declared Ben Jonson of his contemporary William Shakespeare (1564-1616). Jonson's praise is especially prescient, since at the turn of the 17th century Shakespeare was but one of many popular London playwrights and none of his dramas were printed in his lifetime. The reason so many of his works survive is because two of his actor friends, with the assistance of Jonson, assembled and published the First Folio edition of 1623.