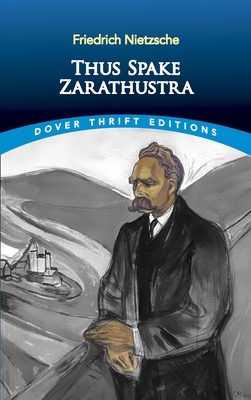 Thus Spake Zarathustra (Dover Thrift Editions) (Paperback)
Dover Publications, 9780486406633, 288pp.
Publication Date: January 5, 1999
Other Editions of This Title:
Paperback (12/2/2015)
Paperback (4/10/2008)
Paperback (7/17/2018)
Paperback (1/27/2019)
Paperback (7/10/2013)
Paperback (2/27/2012)
Paperback (4/27/2019)
Paperback (7/4/2017)
Paperback (1/16/2018)
Paperback (3/12/2007)
Paperback (6/8/2018)
Paperback (8/6/2009)
Paperback (11/3/2018)
Paperback (9/21/2018)
Paperback (1/1/2006)
Paperback (8/10/2017)
* Individual store prices may vary.
Description
A tremendously influential philosophical work of the late nineteenth century, Thus Spake Zarathustra is also a literary masterpiece by one of the most important thinkers of modern times. In it, the ancient Persian religious leader Zarathustra (or Zoroaster) serves as the voice for Friedrich Nietzsche's views, which include the introduction of the controversial doctrine of the bermensch, or "superman."
Although later perverted by Nazi propagandists, the bermensch was conceived by Nietzsche to designate the ultimate goal of human existence as the achievement of greatness of will and being. He was convinced that the individual, instead of resigning himself to the weakness of being human and worshipping perfection only possible in the next world (at least in the Christian view), should try to perfect himself during his earthly existence, and transcend the limitations of conventional morality. By doing so, the bermensch would emerge victorious, standing in stark contrast to "the last man" -- an uncreative conformist and complacent hedonist who embodies Nietzsche's critique of modern civilization, morality, and the Christian religion.
Written in a passionate, quasi-biblical style, Thus Spake Zarathustra is daring in form and filled with provocative, thought-provoking concepts. Today, the work is regarded as a forerunner of modern existentialist thought, a book that has provoked and stimulated students of philosophy and literature for more than 100 years.