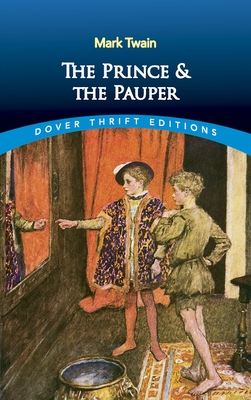 The Prince and the Pauper (Dover Thrift Editions) (Paperback)
Dover Publications, 9780486411101, 176pp.
Publication Date: May 24, 2000
Other Editions of This Title:
Paperback (7/8/2015)
Paperback (3/1/2001)
Paperback (10/20/2016)
Paperback (12/19/2014)
Paperback (10/6/2016)
Paperback (4/4/2017)
Paperback (4/1/2018)
Paperback (3/2/2019)
Paperback (3/10/2009)
Paperback (1/11/2018)
Paperback (2/9/2017)
Paperback (5/15/2017)
Paperback (1/22/2015)
Paperback (2/28/2017)
Paperback (2/23/2017)
Paperback (12/9/2019)
Paperback (9/6/2018)
* Individual store prices may vary.
Description
This treasured historical satire, played out in two very different socioeconomic worlds of 16th-century England, centers around the lives of two boys born in London on the same day: Edward, Prince of Wales, and Tom Canty, a street beggar. During a chance encounter, the two realize they are identical and, as a lark, decide to exchange clothes and roles -- a situation that briefly, but drastically, alters the lives of both youngsters.
The Prince, dressed in rags, wanders about the city's boisterous neighborhoods among the lower classes and endures a series of hardships; poor Tom, now living with the royals, is constantly filled with the dread of being discovered for who and what he really is.
Brimming with gentle humor and discerning social scrutiny, this timeless tale of transposed identities remains one of Twain's most popular and best-loved novels.
About the Author
After the Civil War, Samuel Clemens (1835-1910) left his small town to seek work as a riverboat pilot. As Mark Twain, the Missouri native found his place in the world. Author, journalist, lecturer, wit, and sage, Twain created enduring works that have enlightened and amused readers of all ages for generations.