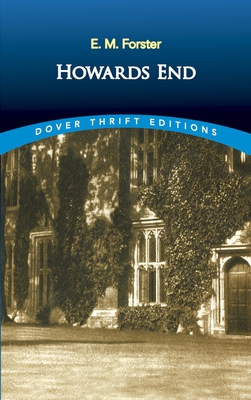 Howards End (Dover Thrift Editions) (Paperback)
Dover Publications, 9780486424545, 256pp.
Publication Date: October 29, 2002
Other Editions of This Title:
Paperback (1/19/2012)
Paperback (8/29/2018)
Paperback (11/3/2018)
Paperback (8/22/2018)
Paperback (1/7/2019)
Paperback (6/18/2008)
Paperback (8/9/2018)
Paperback (1/1/2007)
Paperback (9/8/2018)
Paperback (4/6/2010)
Hardcover (1/7/2019)
Paperback (11/4/2008)
Paperback (3/17/2019)
Hardcover (4/6/2010)
Hardcover (8/9/2018)
Paperback (1/22/2014)
* Individual store prices may vary.
Description
The self-interested disregard of a dying woman's bequest, an impulsive girl's attempt to help an impoverished clerk, and the marriage between an idealist and a materialist -- all intersect at a Hertfordshire estate called Howards End. The fate of this beloved country home symbolizes the future of England itself in E. M. Forster's exploration of social, economic, and philosophical trends, as exemplified by three families: the Schlegels, symbolizing the idealistic and intellectual aspect of the upper classes; the Wilcoxes, representing upper-class pragmatism and materialism; and the Basts, embodying the aspirations of the lower classes. Published in 1910, Howards End won international acclaim for its insightful portrait of English life during the post-Victorian era.