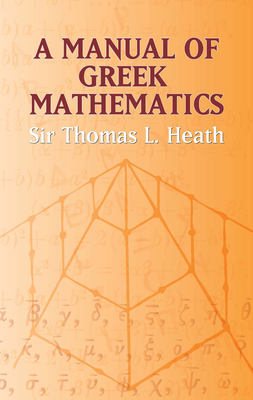 A Manual of Greek Mathematics (Dover Books on Mathematics)
Paperback

* Individual store prices may vary.
Description
This concise but thorough history encompasses the enduring contributions of the ancient Greek mathematicians whose works form the basis of most modern mathematics. Written by a distinguished scholar and mathematician, the well-written, nontechnical text is geared toward high school, college, and graduate students, teachers, and those seeking a historical perspective on mathematics. Topics include Pythagorean arithmetic, Plato's use and philosophy of mathematics, an in-depth analysis of Euclid's "Elements," the beginnings of Greek algebra and trigonometry, and other mathematical milestones.
Dover Publications, 9780486432311, 552pp.
Publication Date: December 29, 2003
About the Author
Thomas Little Heath: Bringing the Past to Life Thomas Little Heath (1861-1940) was unusual for an authority on many esoteric, and many less esoteric, subjects in the history of mathematics in that he was never a university professor. The son of an English farmer from Lincolnshire, Heath demonstrated his academic gifts at a young age; studied at Trinity College, Cambridge, from 1879 to 1882; came away with numerous awards; and obtained the top grade in the 1884 English Civil Service examination. From that foundation, he went to work in the English Treasury, rose through the ranks, and by 1913, was permanent secretary to the Treasury, effectively the head of its operations. He left that post in 1919 at the end of the first World War, worked several years at the National Debt office, and retired in 1926. During all of that time, however, he became independently one of the world's leading authorities on the history of mathematics, especially on the history of ancient Greek mathematics. Heath's three-volume edition of Euclid is still the standard, it is generally accepted that it is primarily through Heath's great work on Archimedes that the accomplishments of Archimedes are known as well as they are. Dover has reprinted these and other books by Heath, preserving over several decades a unique legacy in the history of mathematical scholarship. In the Author's Own Words: "The works of Archimedes are without exception, monuments of mathematical exposition; the gradual revelation of the plan of attack, the masterly ordering of the propositions, the stern elimination of everything not immediately relevant to the purpose, the finish of the whole, are so impressive in their perfection as to create a feeling akin to awe in the mind of the reader." -- Thomas L. Heath