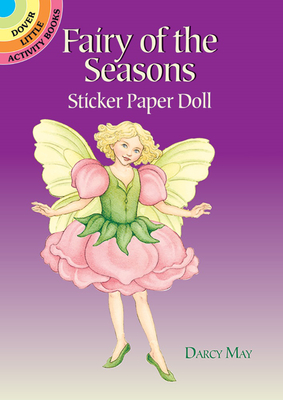 Fairy of the Seasons Sticker Paper Doll (Dover Little Activity Books) (Novelty)
Dover Publications, 9780486433127, 4pp.
Publication Date: January 15, 2004
* Individual store prices may vary.
Description
This little fairy will enchant you with her beautiful outfits made from delicate flower petals, leaves, and berries that change with the seasons. For spring she wears the first blooms of the year that pop out of the ground -- the daffodil and crocus. During the warm summer months you can find her in a morning glory, rose, or daisy costume. When the weather starts to turn colder in autumn, she puts on her oak leaf dress and acorn hat, or a chrysanthemum skirt. Her favorite season is winter when she dresses up in her gorgeous Christmas gown, or in her adorable holly leaf and berry outfit.
Just lift off the stickers and place them on the doll located on the inside back cover. The stickers can be used over and over, so be sure to put them back on the pages of the book to store them.
About the Author
Darcy May was born in Redondo Beach, California, and traveled east with her family as her father's career in art flourished. Now an award-winning professional herself, she has created paintings for a number of private collections and illustrated many books for Dover and other major publishers.