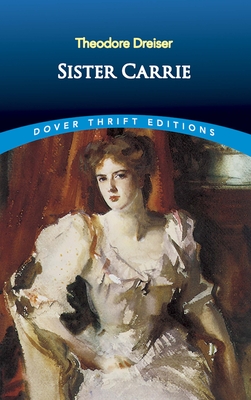 Sister Carrie (Dover Thrift Editions)
Paperback

* Individual store prices may vary.
Other Editions of This Title:
Digital Audiobook (6/21/2005)
Paperback (5/21/2021)
Paperback (2/27/2020)
Paperback (2/14/2020)
Paperback (9/26/2020)
Paperback (8/11/2017)
Paperback (12/8/2020)
Paperback (4/23/2012)
Paperback (2/2/2021)
Paperback (5/3/2017)
Paperback (4/16/2018)
Paperback (6/15/2017)
Paperback (3/9/2020)
Paperback (1/28/2021)
Paperback (5/22/2017)
Paperback (12/26/2013)
Paperback (3/30/2014)
Description
Sister Carrie ... came to housebound and airless America like a great free Western wind, and to our stuffy domesticity gave us the first fresh air since Mark Twain and Whitman. -- Sinclair Lewis
It is a great novel and belongs on anybody's list, absolutely. -- Garrison Keillor
An eighteen-year-old girl without money or connections ventures forth from her small town in search of a better life in Theodore Dreiser's revolutionary first novel. The chronicle of Carrie Meeber's rise from obscurity to fame -- and the effects of her progress on the men who use her and are used in turn -- aroused a storm of controversy and debate upon its debut in 1900. The author's nonjudgmental portrait of a heroine who violates the contemporary moral code outraged some critics, including the book's publisher, Frank Doubleday, who tried to back out of his agreement his firm had made with Dreiser. But others were elated -- and Dreiser's compelling plot and realistic characters continue to fascinate readers.
Sister Carrie stands outside the brief traffic of the customary stage. It leaves behind an inescapable impression of bigness, of epic sweep and dignity. It is not a mere story, not a novel in the customary American meaning of the word; it is at once a psalm of life and a criticism of life ... Dreiser's] aim is not merely to tell a tale; his aim is to show the vast ebb and flow of forces which sway and condition human destiny. The thing he seeks to do is to stir, to awaken, to move. One does not arise from such a book as Sister Carrie with a smirk of satisfaction; one leaves it infinitely touched. -- H. L. Mencken
Dover Publications, 9780486434681, 352pp.
Publication Date: May 7, 2004