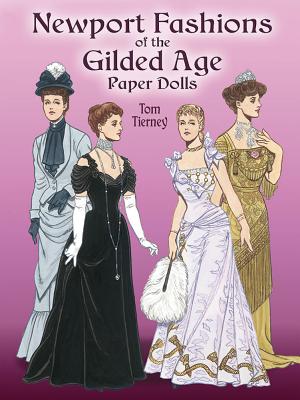 Newport Fashions of the Gilded Age Paper Dolls (Dover Victorian Paper Dolls) (Paperback)
Dover Publications, 9780486444499, 32pp.
Publication Date: December 5, 2005
* Individual store prices may vary.
Description
During the extravagant era of the Gilded Age, Newport, Rhode Island, served as a summer retreat for America's social aristocracy. Here the "Four Hundred" of high society built palaces on magnificent estates and entertained each other. Tom Tierney recreates this breathtaking world in a volume featuring two dolls and a wardrobe of 30 costumes once worn by the Vanderbilts, Astors, Belmonts, and other members of the social elite.
Worn during the height of Newport's social seasons during the 1870s through the early 1900s, the stunning creations range from velvet afternoon dresses and elaborate outfits for costume balls, to fashionable dinner attire and satin evening gowns.
About the Author
One of the leading authorities on fashion history, Tom Tierney created over 150 paper doll books for Dover Publications. With subjects ranging from U.S. Presidents to popular movie stars, Mr. Tierney's books are famous for being carefully researched and meticulously rendered. His releases are prized by fashion professionals, collectors, and paper doll lovers all over the world.