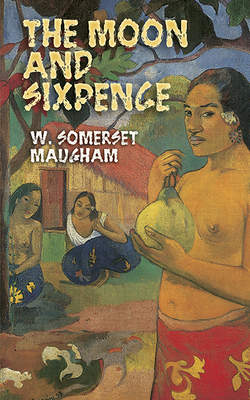 The Moon and Sixpence (Dover Value Editions) (Paperback)
Dover Publications, 9780486446028, 164pp.
Publication Date: January 20, 2006
Other Editions of This Title:
Paperback (7/5/2007)
Paperback (11/10/2015)
Paperback (2/4/2009)
Paperback (12/1/2008)
Paperback (4/16/2007)
Paperback (11/3/2008)
Paperback (12/22/2008)
Paperback (1/12/2018)
Paperback (1/1/2005)
Hardcover (7/5/2007)
Hardcover (2/11/2009)
Hardcover (12/9/2008)
Hardcover (4/16/2007)
Hardcover (4/3/2018)
Paperback (11/29/2005)
Paperback (5/9/2000)
* Individual store prices may vary.
Description
"Witty, compelling." -- The Boston Globe. Gripped by an overwhelming obsession, Charles Strickland, a conventional London stockbroker, decides in midlife to desert his wife, family, business, and civilization for his art. One of Maugham's most popular works, The Moon and Sixpence is a riveting story about an uncompromising and self-destructive man who forsakes wealth and comfort to pursue the life of a painter. Drifting from Paris to Marseilles, Strickland eventually settles in Tahiti, takes a mistress, and in spite of poverty and a long, terminal illness, produces his most passionate and mysterious works of art.
Loosely based on the life of Paul Gauguin, Maugham's timeless masterpiece is storytelling at its best -- an insightful work focusing on artistic fixation that propels the artist beyond the commonplace into the selfish realm of genius.