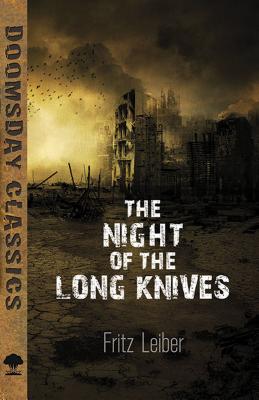 The Night of the Long Knives (Dover Doomsday Classics) (Paperback)
Dover Publications, 9780486798011, 112pp.
Publication Date: July 15, 2015
Other Editions of This Title:
Paperback (4/1/2011)
Paperback (1/14/2009)
Paperback (5/1/2017)
Paperback (8/26/2010)
Paperback (3/3/2016)
Paperback (8/9/2014)
Hardcover (4/3/2018)
Paperback (7/24/2015)
Paperback (7/11/2017)
Paperback (2/1/2016)
* Individual store prices may vary.
Description
I was one hundred miles from Nowhere ― and I mean that literally ― when I spotted this girl out of the corner of my eye. I'd been keeping an extra lookout because I still expected the other undead bugger left over from the murder party at Nowhere to be stalking me.
Welcome to Deathland, a postapocalyptic nuclear desert where kill or be killed is the law of the land. The radiation-damaged survivors of this ravaged region are consumed by the urge to murder each other, making partnership of any sort a lethal risk. But when two drifters forge an uneasy truce, the possibility of a new life beckons.
Written by a multiple Hugo Award-winning author and one of the founders of the sword-and-sorcery genre, this novel-length magazine story first appeared at the height of Cold War paranoia. Fritz Leiber's thought-provoking tale addresses timeless questions about the influences of community and culture as well as the individual struggle to reform.

About the Author
Fritz Leiber (1910-92) was an American writer who excelled in all fields of speculative fiction, including fantasy, horror, and science fiction. Along with Robert E. Howard and Michael Moorcock, Leiber is regarded as one of the fathers of sword-and-sorcery fantasy.