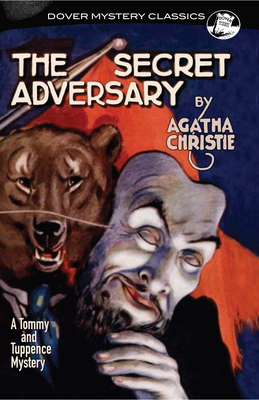 The Secret Adversary (Dover Mystery Classics) (Paperback)
Dover Publications, 9780486812403, 240pp.
Publication Date: March 17, 2017
Other Editions of This Title:
Paperback (5/24/2018)
Paperback (6/23/2018)
Paperback (1/2/2017)
Paperback (6/14/2017)
Paperback (4/7/2017)
Paperback (4/7/2018)
Paperback (8/12/2017)
Paperback (7/6/2018)
Paperback (12/18/2017)
Paperback (8/20/2017)
Paperback (2/7/2016)
Paperback (6/13/2018)
Paperback (3/6/2017)
Paperback (1/8/2017)
Paperback (10/17/2017)
Paperback (2/17/2018)
Hardcover (1/19/2012)
Paperback (7/8/2017)
* Individual store prices may vary.
Description
Two young adventurers for hire. Willing to do anything, go anywhere.
Pay must be good. No reasonable offer refused.
With that bold declaration, Thomas Tommy Beresford and Prudence Tuppence Cowley launch their career as sleuths. The childhood chums, newly reunited in London during the lean years after the Great War, are immediately swept up in a series of thrilling escapades as they search for a secret treaty in the hands of a survivor of the shipwrecked Lusitania. Witty banter highlights their tale of adventure, courage, and suspense, populated by a colorful cast ranging from an American millionaire and a British Intelligence agent to a ring of Bolshevist conspirators headed by a criminal mastermind.
Agatha Christie published The Secret Adversary in 1922 after the success of her very first book, TheMysterious Affair at Styles, which introduced Hercule Poirot. With stolid Tommy and lively Tuppence, Christie created a pair of fan favorites to whom she returned throughout her career; the fun-loving duo appear in three other novels and a collection of short stories, and their exploits have been adapted for stage and screen. The beloved characters' debut offers a light-hearted romp that also recaptures the spirit of its age, as postwar England hovered on the brink of monumental change.
About the Author
Agatha Christie (1890-1976) is the bestselling novelist in history; only the Bible and the works of Shakespeare are more frequently purchased than her mysteries, which have sold more than a billion copies in English and another billion in 100 foreign languages. Her play, The Mousetrap, opened in London in 1952 and has run continuously ever since.