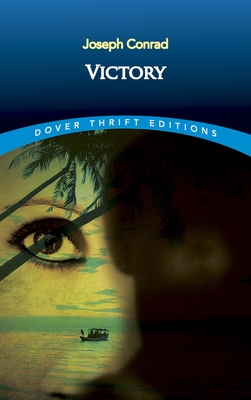 Victory (Dover Thrift Editions)
Paperback

* Individual store prices may vary.
Other Editions of This Title:
Paperback (6/21/2017)
Paperback (3/20/2018)
Paperback (9/19/2017)
Paperback (10/25/2016)
Paperback (3/29/2017)
Paperback (5/13/2017)
Paperback (6/10/2018)
Paperback (3/26/2017)
Paperback (12/22/2017)
Paperback (12/3/2017)
Paperback (1/7/2017)
Hardcover (5/25/2017)
Hardcover (1/5/2011)
Paperback (6/16/2018)
Paperback (5/25/2017)
Paperback (12/7/2017)
Paperback (4/25/2018)
Paperback (8/21/2017)
Paperback (8/22/2017)
Description
The world is a bad dog. It will bite you if you give it a chance, maintains Axel Heyst, a Swedish drifter in the Pacific islands. Heyst's attempt to remain aloof from the rest of humanity is challenged by his compassion for Lena, a destitute orchestra girl. Defying Lena's abusive boss, the two flee to an isolated paradise. But the vengeful employer sets a trio of miscreants on the lovers' trail, leading Heyst's growing moral courage to a deadly reckoning.
First published in 1915, Victory is Conrad's last great novel. Its central question, whether a man of moral sensitivity can function in a corrupt and derelict world, is treated with the author's fundamental pessimism and with faith in the possibility of redemption. The tale abounds in elements characteristic of the great storyteller's later work: an exotic setting, richly and powerfully evoked; muscular prose; complex characterization; and a compelling examination of the human capacity for good and evil.

Dover Publications, 9780486812502, 336pp.
Publication Date: August 15, 2017
About the Author
Joseph Conrad (1857-1924) was fluent from birth in French as well as his native Polish. He learned his third language, English, as an adult, and it was in English that he wrote his evocative stories and novels. Conrad drew upon his experiences in the British and French navies to portray the struggles of humanity amid the world's vast indifference.