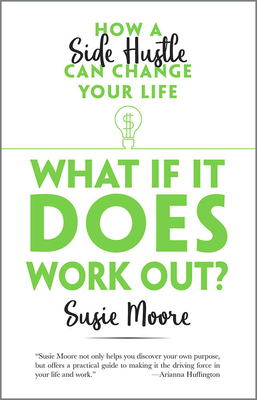 What If It Does Work Out?: How a Side Hustle Can Change Your Life (Hardcover)
How a Side Hustle Can Change Your Life
Ixia Press, 9780486816494, 192pp.
Publication Date: November 15, 2017
Description
"Susie Moore not only helps you discover your own purpose, but offers a practical guide to making it the driving force in your life and work." -- Arianna Huffington
Do you have a hobby or passion that has nothing to do with your nine-to-five job? Do you craft vintage jewelry, make handmade furniture, or offer expert negotiating advice to family and friends in your spare time? Then you, too, could join the 1/3 of Americans who turn their talents into a lucrative side hustle.
In What If It Does Work Out? life coach and professional side-hustler Susie Moore offers expert tips and guidance to help you earn an extra source of income by doing something you love. In her energetic and encouraging style, she guides you through all of the planning stages and potential obstacles, showing how to overcome any hesitation or fear, create multiple revenue streams, and more. Susie also presents inspiring stories from fellow side hustle successes, including the founders of Spanx and MindBodyGreen. Recommended by Entrepreneur magazine as a book "entrepreneurs must read to dominate their industry," What If It Does Work Out? features all you need to take the practical steps toward living the life of your dreams.
"Susie Moore is a powerhouse ... highly energetic, positive, generous and creative." -- Bruce Littlefield, New York Times bestselling author
"After working with Susie for more than a year, I've witnessed the incredibly positive impact her work has on our millennial readers -- as well as my own personal and professional life. Her advice is down-to-earth, relatable, and encouraging, with just the right amount of tough love you need to make your goals a reality. This book is guaranteed to change your life, in the best way possible." -- Locke Hughes, Greatist
"Susie is an inspiration. She runs circles around the rest of us and makes it look easy. Any insight into how she does it is worth reading For someone so accomplished to open up so candidly is an opportunity for the rest of us to learn, and one we shouldn't miss." -- Libby Kane, Business Insider
About the Author
Susie Moore not only talks the talk, she walks the walk. After leaving her highly profitable yet ultimately unsatisfying career as a Fortune 500 sales director, Susie has become a successful business and life coach, advising high-growth startups in Silicon Valley and New York City, all of which sold, the most recent for $405 million. With years of experience on the front-lines of the side hustle economy, she has become a popular guest on The Today Show, Business Insider, The Huffington Post, Forbes, Time, and other leading print and broadcast media outlets. She is also a regular contributor to Fortune.com, Inc., Greatist, Brit + Co, and others. Susie can be found at susie-moore.com.
Advertisement