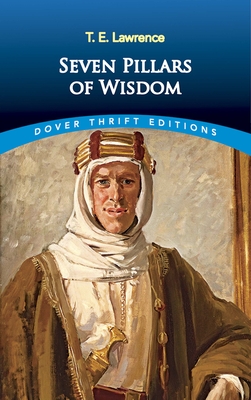 Seven Pillars of Wisdom (Dover Thrift Editions)
Paperback

* Individual store prices may vary.
Other Editions of This Title:
Paperback (1/18/2011)
Paperback (10/18/2013)
Paperback (10/1/2019)
Paperback (8/17/2020)
Paperback (6/9/2017)
Hardcover (1/5/2009)
Hardcover (1/17/2011)
Hardcover (8/16/2020)
Paperback (1/8/2009)
Paperback (8/17/2011)
Paperback (6/5/1997)
Paperback (6/1/1991)
Compact Disc (2/11/2020)
Paperback (11/1/2006)
MP3 CD (2/11/2020)
Hardcover (12/1/1976)
Description
"It ranks with the greatest books ever written in the English language. As a narrative of war and adventure ... it is unsurpassable." -- Winston Churchill
T. E. Lawrence's autobiographical tale, the basis for the film Lawrence of Arabia, offers a firsthand account of the Arab Revolt against the Turks. Lawrence was already a living legend by the time of this book's initial publication, and his colorful, poetic memoir paints a fascinating portrait of the Middle East during World War I.
Faced with a deadlock on the Western front, the British pursued the opening of an Eastern front by persuading the Arabs to attack the Ottoman Empire. Lawrence's understanding of Arab culture and his skills as a tactician made him the ideal liaison. His action-packed accounts of desert campaigns and acute observations of people, places, and events form a vivid historical record that combines the power of a heroic epic with the intimacy of an autobiography.
Dover Publications, 9780486821498, 688pp.
Publication Date: April 18, 2018
About the Author
T. E. Lawrence (1888-1935), popularly known as Lawrence of Arabia, was the most famous of the British officers who served as liaisons to the Arab forces during World War I. Lawrence worked closely with Emir Faisal, a leader of the Arab Revolt, and took an active role in military activities against the Ottoman Empire. After the war he served as a diplomat with the Foreign Office and as an enlisted man in the Army and Royal Air Force.