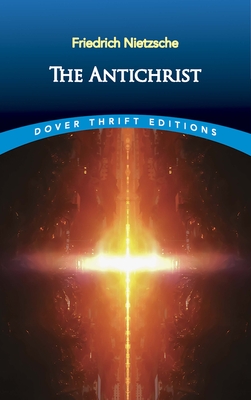 The Antichrist (Dover Thrift Editions) (Paperback)
Dover Publications, 9780486826660, 96pp.
Publication Date: December 19, 2018
Other Editions of This Title:
Paperback (7/15/2016)
Paperback (6/10/2019)
Paperback (6/3/2019)
Paperback (9/4/2016)
Paperback (3/8/2018)
Paperback (4/30/2019)
Paperback (7/19/2018)
Paperback (7/17/2018)
Paperback (4/15/2010)
Paperback (5/4/2007)
Paperback (8/26/2018)
Paperback (5/26/2019)
Paperback (1/31/2018)
Paperback (10/1/2018)
Paperback (6/22/2016)
Paperback (2/20/2009)
Paperback (11/30/2014)
Paperback (5/14/2018)
* Individual store prices may vary.
Description
"In truth there was only one Christian, and he died on the cross," declares Friedrich Nietzsche in this famous attack on Christianity and organized religion. A deep exploration and repudiation of Christian symbolism and morality, The Antichrist was the last of Nietzsche's works save for his autobiography, Ecco Homo. As such, it may be regarded as a final statement of some of his most important ideas.
This polemic is also one of the philosopher's most conventionally formatted books, consisting of a connected argument with few digressions and a clearly defined beginning, middle, and end. Indeed, it ranks among philosophy's most accessible and easily understood works, consisting of 62 brief chapters. Each chapter features an aphorism that advances the author's arguments against Christian tenets. Fast-paced, concise, and brimming with conviction, Nietzsche's landmark work is essential to a grasp of his complete oeuvre.
About the Author
German philosopher Friedrich Wilhem Nietzsche (1844-1900) ranks among the most influential of modern thinkers. His explorations of the motives underlying Western philosophy, religion, and morality have exercised a profound effect on generations of writers, theologians, philosophers, and psychologists. Although Nietzsche was strongly opposed to nationalism and anti-Semitism, his works were later appropriated by Fascists to support the very concepts he deplored.