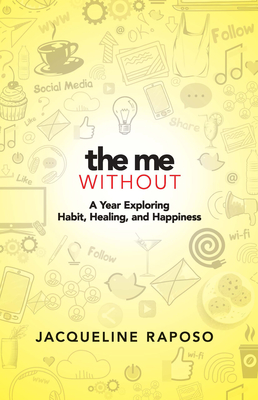 The Me, Without (Hardcover)
A Year Exploring Habit, Healing, and Happiness
Ixia Press, 9780486826882, 256pp.
Publication Date: January 16, 2019
* Individual store prices may vary.
Description
A Main Selection of the One Spirit Book Club

"Raposo's engaging report on stripping life down will inspire readers looking for manageable tweaks to hectic living." -- Publishers Weekly

"No cheesy self-help here, The Me, Without is sharply written and massively relatable. Raposo packs a powerful message into an emotional and entertaining read." -- Kaia Roman, author of The Joy Plan

At the age of thirty-four, journalist Jacqueline Raposo finds herself sick, single, broke, and wandering in a fog. Despite decades of discipline, her chronic illness is getting worse. Despite hosting a radio show about dating, she hasn't been in love in years. And despite a successful writing career, she's deeply in debt. Weary of trying to solve her problems by adding things to her life, she attempts the opposite and subtracts some of her most constant habits -- social media, shopping, sugar, and negative thoughts -- for periods of thirty to ninety days over the course of one year.
In this intimately curated search for self-improvement (a quest that readers can easily personalize for themselves), Raposo confesses to the sometimes violent and profound shifts in her social interactions, physical health, and sense of self-worth. With the input of doctors, psychologists, STEM experts, and other professionals, she offers fascinating insights into how and why our brains and bodies react as they do to our habits. She also sheds light on the impact of our everyday choices on our mental state. Part memoir, part case study, this book offers you an inspiring example of how to forge your own journey, expose your wounds, and help yourself heal.

"Jacqueline is able to make me chuckle with one sentence and then have a deep introspective moment in the next. Her openness and honesty is truly amazing. If you have been looking to examine your relationship with the world, this is the book for you " -- Travis McElroy, host of the podcasts My Brother, My Brother, and Me and The Adventure Zone

"So many of us live in terror of deprivation, whether it's tangible, edible, social, physical, financial, or emotional, because we are terrified of what we'll see when we're stripped bare. In Jacqueline Raposo's brave, rigorous, and vulnerable exploration of what it means to live without, the author uses periods of deliberate abstinence from habits to find new ways to engage with the world, determine what's been pinning her in place, and reveal the person she truly can be when she's freed of it all. It's essential reading for anyone on the cusp of making a major life change -- or even a minor one." -- Kat Kinsman, author of Hi, Anxiety
About the Author
Jacqueline Raposo is an expert interviewer. Her over 400 stories cross article, essay, and podcast production featuring humans in the fields of food, lifestyle, entrepreneurship, tech, art, medicine, and more. Regular publications include Food & Wine, Saveur, Cosmopolitan, Bust, Extra Crispy, Plate, and Tasting Table. She studies "why and how we love in all forms" as the producer and co-host of Love Bites Radio, and connects chronic illness/disability advocates with protest events as the co-founder of #MarchingWithMe. You can find her at www.jacquelineraposo.com.