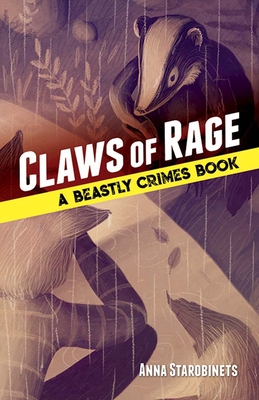 Claws of Rage (Hardcover)
A Beastly Crimes Book (#3)
Dover Publications, 9780486829524, 176pp.
Publication Date: September 18, 2019
* Individual store prices may vary.
Description
The peaceful existence of the animals in the Far Woods is threatened by a crime wave in this third volume of the fanciful Beastly Crimes Book series. First, an underground art exhibition is robbed. Soon after, Marquise, a pampered, snow-white Persian, is kidnapped from the cat show. To Chief Badger and his ambitious assistant, Badgercat, all clues point to the snooty Arctic Fox as the culprit -- until the emergence of Claws of Rage, a nefarious group of nonpedigreed agitators seeking vengeance against purebred, well-fed, happy-go-lucky animals.
Can Chief Badger and Badgercat round up Claws of Rage members before they strike again? Will Badgercat be able to put aside his growing feelings for Marquise and uphold his duty as a Far Woods officer of the law? And what is that strange hairless animal up to? All answers lie within this gripping Beastly Crimes book, number three in the series.
About the Author
Anna Starobinets is an award-winning novelist, screenwriter, and journalist. Best known as a writer of dystopian and metaphysical stories, she is also a successful children's author. Her previous titles include Catlantis, translated from Russian into English by Jane Bugaeva, and praised by Kirkus Reviews as "a trippy, silly tale of cat magic, folklore, and love....Bugaeva's punny translation will make this a fine read-aloud. A must for those seeking culturally diverse literary experiences."