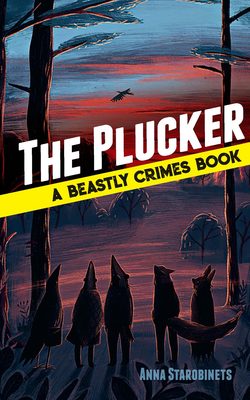 The Plucker (Hardcover)
A Beastly Crimes Book (#4)
Dover Publications, 9780486829531, 304pp.
Publication Date: October 16, 2019
* Individual store prices may vary.
Description
"A clever whodunit featuring believable animal characters in a convincing, recognizable society. A few full-color illustrations from Muravski add to the appeal. Mystery fans (around the world) should rejoice." -- Kirkus In the finale of the four-book Beastly Crimes series, Chief Badger faces his most bizarre case yet, in which someone is plucking and burning the feathers of birds in the Far Woods. To make things even worse, the top suspect is his former assistant, young Badgercat. Chief Badger knows that Badgercat can't possibly be the Plucker, so who plucked Lady Cuckoo and attacked the owl twins, Chuck and Huck? Was it Warbler the barber, who's obsessed with hair, fur, and feathers? Or the sly, treacherous Arctic Fox? Was it the compulsive thief, Sneaky Sal the salamander? Or someone else?
Newly translated from the original Russian, this delightfully offbeat mystery is graced by a wealth of full-color illustrations and is certain to thrill all young sleuths. Look for the previous novels in the Beastly Crimes series -- In the Wolf's Lair, A Predator's Rights, and The Claws of Rage.
About the Author
Anna Starobinets is an award-winning novelist, screenwriter, and journalist. Best known as a writer of dystopian and metaphysical stories, she is also a successful children's author. Her previous titles include Catlantis, translated from Russian into English by Jane Bugaeva, and praised by Kirkus Reviews as "a trippy, silly tale of cat magic, folklore, and love....Bugaeva's punny translation will make this a fine read-aloud. A must for those seeking culturally diverse literary experiences."