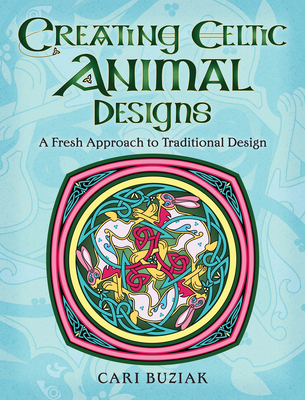 Creating Celtic Animal Designs
A Fresh Approach to Traditional Design
Paperback

* Individual store prices may vary.
Description
Many instruction books just teach how to duplicate designs without providing any clues for the next step -- making your own This unique guide features the highly effective Aon method, a technique for creating your own original designs rather than copying examples. It's easy to comprehend, with simple step-by-step instructions that focus on incorporating animal forms into Celtic patterns and designs.
Creating Celtic Animal Designs builds on author Cari Buziak's experience teaching and writing about Celtic patterns and their creation, meaning, and history. Her nine in-depth examples encompass both traditional and contemporary renderings of animals -- hounds, lions, hares, birds, and other creatures. Cari demonstrates the freehand drawing of Celtic knots and moves beyond the basics to show how to manipulate and develop stand-alone patterns into panels and combinations. Artists, designers, art instructors, tattoo artists, and anyone who appreciates Celtic designs will find this book a treasury of both instruction and inspiration.
Dover Publications, 9780486837314, 128pp.
Publication Date: January 15, 2020
About the Author
Cari Buziak lives in Calgary, Alberta, where she re-creates ancient manuscripts in painted and digital form for a variety of merchandising and fine art needs. She has published illustrations with Interweave Press, Penguin/Pearson Books, Llewellyn Publications, and Chronicle Books, and her work has appeared in galleries around the world. Her website, http: //www.aon-celtic.com/ is one of the leading sites providing examples and tutorials on many forms of Celtic art patterning.