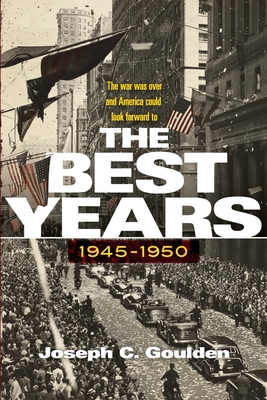 The Best Years, 1945-1950 (Paperback)
Dover Publications, 9780486838267, 480pp.
Publication Date: December 18, 2019
* Individual store prices may vary.
Description
"Lively, instructive, and evocative ... a veritable tour guide of the formative years, and I wouldn't have missed the trip for anything." -- Bill Moyers For many Americans, the five-year period between the end of World War II and the start of the Korean War was a golden era, marked by a booming economy and a national mood of unity and optimism. For others, it represents a simmering mix of tensions, an era shadowed by troubled race relations and out-of-control anti-Communism. This unique and highly regarded book offers a nuanced and perceptive exploration of how Americans of the era thought and behaved that's based on then-current information rather than through the long-distance prism of history.
Journalist Joseph C. Goulden quotes both prominent and obscure citizens, who describe their experiences of postwar America. His historical narrative is punctuated by several brief reminiscences of his own youth in Texas during these pivotal years, and he provides a new Preface with additional insights garnered since the book's original 1976 publication. The result is an intricate and indelible record of a crucial period in American political and social history. "Good history and good reading: a remarkable triumph." -- Larry L. King.
About the Author
Joseph C. Goulden is the author and co-author of 19 nonfiction books, including The Superlawyers, a five-month national bestseller, and Korea: The Untold Story of the War. Goulden spent a decade in daily journalism with The Dallas Morning News and as Washington Bureau Chief for the Philadelphia Inquirer. His other Dover book is The Dictionary of Espionage: Spyspeak into English.