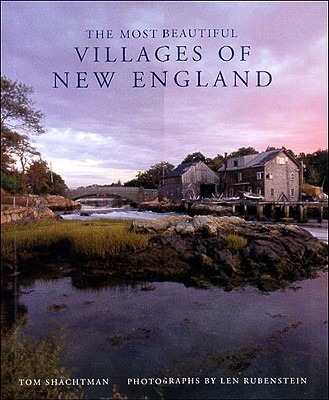 The Most Beautiful Villages of New England
Hardcover

* Individual store prices may vary.
Description
With this book, Thames and Hudson's renowned Most Beautiful Villages series turns its attention for the first time to America.
Honored as the birthplace of the Revolution, the six states that comprise New England are home to some of this country's most beautiful and cherished villages--places that preserve and reflect its architectural and cultural legacy. Here, in countless public squares and cemeteries, are monuments to the battles of the Revolution, and memorials to the heirs of the revolutionaries who themselves marched off to preserve the Union during the Civil War.
One of the most splendid repositories of American institutional architecture is found in New England's public meeting halls and churches, and in the industrial mills and factories of the nineteenth century. The book also celebrates New England's rich tradition of domestic architecture: seaside homes clad in weathered gray shingles, white clapboard houses surrounding village greens, and exuberant Victorian gingerbread homes. New England is justly famous for its succession of intensely realized seasons: its deep and snowy winter; its spring, which bursts forth in a cascade of melting snow and budding vegetation; its leafy, languid summer days; and, perhaps most famously, its autumn, when the landscape seems to be on fire with the vivid reds, oranges, and yellows of the foliage.
The Most Beautiful Villages of New England
presents over twenty-five towns and villages, chosen for their beauty and history, and for their diverse geography. Here are the fishing villages and towns of New England's rocky Atlantic Coast, from famous summer watering holes to isolated island hamlets. We explore farming villages and the highlands of New England's mountain ranges--the Adirondacks, Berkshires, and Green Mountains. In the river valleys we find quiet, exquisitely preserved communities and renovated mill and factory towns.
Thames & Hudson, 9780500018002, 208pp.
Publication Date: October 31, 1997
About the Author
Tom Shachtman is the author of more than twenty books including Skyscraper Dreams and The Inarticulate Society, as well as a documentary film maker.

Len Rubenstein has been taking photographs around the world.
or
Not Currently Available for Direct Purchase