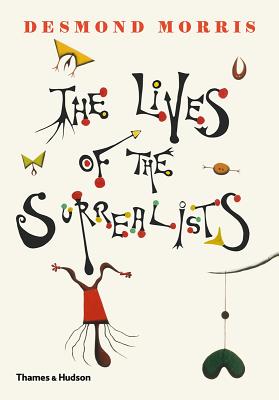 The Lives of the Surrealists
Hardcover

* Individual store prices may vary.
Description
Life histories of the Surrealists, known and unknown, by one of the last surviving members of the movement—artist and best-selling author Desmond Morris
Surrealism did not begin as an art movement but as a philosophical strategy, a way of life, and a rebellion against the establishment that gave rise to the First World War. In Lives of the Surrealists, Desmond Morris concentrates on the artists as people—as remarkable individuals. What were their personalities, their predilections, their character strengths and flaws?
Unlike the Impressionists or the Cubists, the surrealists did not obey a fixed visual code, but rather the rules of surrealist philosophy: work from the unconscious, letting your darkest, most irrational thoughts well up and shape your art. An artist himself, and contemporary of the later surrealists, Morris illuminates the considerable variation in each artist's approach to this technique. While some were out-and-out surrealists in all they did, others lived more orthodox lives and only became surrealists at the easel or in the studio.
Focusing on the thirty-five artists most closely associated with the surrealist movement, Morris lends context to their life histories with narratives of their idiosyncrasies and their often complex love lives, alongside photos of the artists and their work.
Praise For The Lives of the Surrealists…
An ideal introduction to the rebellious art movement… Like a modern-day Giorgio Vasari, Morris creates an intimate and unique you-are-there assessment of what made the surrealists tick. Readers will be thankful that Morris, now 89, wrote this very personal take on his fellow surrealists. He offers a revealing book filled with shocking anecdotes and outrageous quotations about 32 of them, from the renowned to the obscure. The book also includes stunning photographs of the artists and their work.

This compendium profiles thirty-five artists closely associated with the movement [and] features forgotten figures as well as celebrated artists such as Joan Miró, with whom Morris once exhibited.

Writing as a personal friend and acquaintance of many of the Surrealists, [Morris] divulges their working habits, personality quirks, and sexual conquests with a disarming familiarity. Each of these biographical entries is thoughtfully accompanied by a lesser-known work of art by each artist, along with photographs of the artists as they appeared in their most active years. Alternatively funny, ribald, and at times genuinely moving, Morris's fittingly off-kilter tribute to the Surrealist movement itself and the eclectic men and women who carried its torch is a true joy.

Highly recommended… In separate chapters, each of which covers one of the artists, Morris draws on his knowledge of individual idiosyncrasies, life histories, love lives, personalities, predilections, character traits, etc. [and] recounts details that are extraordinary, entertaining, shocking, and witty.

Engaging, informative...a series of brief, chatty biographies of 32 artists, ranging from superstars such as Breton, Dalí, Magritte and Miró to obscure figures such as Wilhelm Freddie and Conroy Maddox [that's] both witty and systematic... Since Mr. Morris knew many of his subjects, there's a wealth of gossipy anecdote leavening the facts, although he remains admirably evenhanded... it's entertaining and can painlessly fill in gaps about a significant part of 20th-century modernism.
Thames & Hudson, 9780500021361, 272pp.
Publication Date: May 15, 2018
About the Author
Desmond Morris is a zoologist, ethnologist, and painter. He is the bestselling author of The Naked Ape: A Zoologist's Study of the Human Animal, The Human Zoo: A Zoologist's Classic Study of the Urban Animal, Manwatching: A Field Guide to Human Behavior, Bodytalk: A World Guide to Gestures, The Artistic Ape: Three Million Years of Art, and The Lives of the Surrealists.