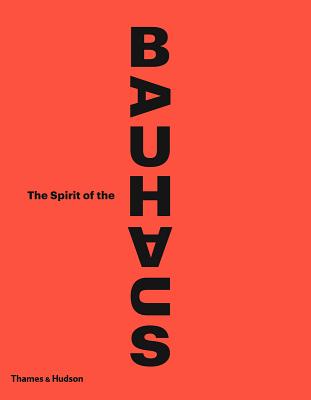 The Spirit of the Bauhaus (Hardcover)
Thames & Hudson, 9780500021804, 264pp.
Publication Date: May 22, 2018
* Individual store prices may vary.
Description
The definitive guide to the Bauhaus, one of the twentieth century's most influential schools of art and design
"Architects, sculptors, painters, we all must return to the crafts!" declared architect Walter Gropius in his Bauhaus manifesto. Founded in 1919 as an art school in Weimar, the Bauhaus established itself as a major influence on twentieth- century art and design. Bauhaus students were taught by some of the most celebrated artists of the time, including Paul Klee, Lyonel Feininger, and Wassily Kandinsky. Having moved to Berlin in 1932 under architect Ludwig Mies van der Rohe, it was forced to close for good by the Gestapo in 1933.
Uncovering the sources of inspiration that brought the Bauhaus into existence, from medieval cathedrals of Europe and Hokusai prints to William Morris and Arts and Crafts, The Spirit of the Bauhaus explores workshops and courses in detail, illustrating the extraordinary wealth of experimentation in every medium: ceramics, wood and metalwork, textiles, glass- painting, sculpture, mural, printing and binding, theater, architecture, and photography.
This essential and accessible guide to the Bauhaus, published in time for the 100th anniversary of the school in 2019, celebrates a school that continues to be recognized as the most durable and influential source of modern ideas about art, design, and craft.
About the Author
Olivier Gabet is director of the Muse´e des Arts De´coratifs.

Anne Monier, a graduate of the Sorbonne and the E´cole Normale Supe´rieure, is a curator at the Muse´e des Arts De´coratifs. Her research focus is the Bauhaus in general and Herbert Bayer in particular.

Raphae`le Bille´ is an assistant curator at the Muse´e des Arts De´coratifs. Her university research was on the topic of French metal furniture from 1925 to 1937.

Monique Blanc is a senior curator at the Muse´e des Arts De´coratifs and head of the Middle Ages/Renaissance department.

Louise Curtis is an assistant curator at the Musée des Arts Décoratifs. She is also a PhD candidate in History of Photography at the Université de Lausanne in Switzerland.

Nicholas Fox Weber is executive director of the Josef and Anni Albers Foundation. He has curated many exhibitions and written extensively on the Bauhaus Group.

Marie-Sophie Carron de la Carrie`re is a senior curator at the Muse´e des Arts De´coratifs and head of the fashion collections from 1800 to 1945.

Jean-Louis Gaillemin, founder of Beaux-Arts magazine and L'Objet d'art, is an honorary lecturer at the Universite´ Paris-Sorbonne, specializing in architecture and decor.

Mathieu Mercier is a French visual artist. He was awarded the Marcel Duchamp prize in 2003.

Be´atrice Quette is head of the Asian collections at the Muse´e des Arts De´coratifs.
or
Not Currently Available for Direct Purchase