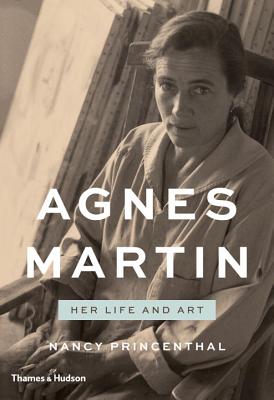 Agnes Martin
Her Life and Art
Hardcover

* Individual store prices may vary.
Other Editions of This Title:
Paperback (1/8/2019)
Description
The first biography of visionary artist Agnes Martin, one of the most original and influential painters of the postwar period
Over the course of a career that spanned fifty years, Agnes Martin's austere, serene work anticipated and helped to define Minimalism, even as she battled psychological crises and carved out a solitary existence in the American Southwest. Martin identified with the Abstract Expressionists but her commitment to linear geometry caused her to be associated in turn with Minimalist, feminist, and even outsider artists. She moved through some of the liveliest art communities of her time while maintaining a legendary reserve. "I paint with my back to the world," she says both at the beginning and at the conclusion of a documentary filmed when she was in her late eighties. When she died at ninety-two, in Taos, New Mexico, it is said she had not read a newspaper in half a century.
No substantial critical monograph exists on this acclaimed artist—the recipient of two career retrospectives as well as the National Medal of the Arts—who was championed by critics as diverse in their approaches as Lucy Lippard, Lawrence Alloway, and Rosalind Krauss. Furthermore, no attempt has been made to describe her extraordinary life. The whole engrossing story, told here for the first time,
Agnes Martin
is essential reading for anyone interested in abstract art or the history of women artists in America.
Praise For Agnes Martin: Her Life and Art…
The first full-length biography of Agnes Martin reveals a driven, conflicted artist. . . . Princenthal has done a heroic service in scouting the glut of sources—reviews, documentaries, interviews, previous publications—for the brightest quotations and strangest anomalies. She strings these together into an engaging narrative. . . . [Her] tone is assured and reassuring. . . . Princenthal's book offers the frankest discussion to date of the artist's diagnosis [of schizophrenia]. It examines the shifting perception and treatment of mental illness in the US during Martin's lifetime, and also the rarity of her condition.
— Bookforum

Writing a biography of Agnes Martin is a study in frustration, but Princenthal manages to piece together a story while getting beyond her subject's well-guarded privacy. [She] carefully describes the artist's works, but there is no way to appreciate [Martin] without seeing the originals. The author's deep research and personal correspondence with the artist will be enlightening to fans of Martin and will encourage others to seek out her work.
— Kirkus Reviews

In the first comprehensive Martin biography, art critic Princenthal combines facts with astute critical analysis to create a richly inquisitive, vividly written portrait in sync with Martin's rigorous yet magnificently nuanced grid and stripe paintings. . . . Princenthal sensitively brings Martin forward as a strong, independent, courageous, thorny, self-mythologizing, funny, private, and generous artist of conviction and vision, who lived simply, attained wealth and fame, and experienced, at times, an 'ecstatic radiance' that will forever animate her paintings.
— Booklist/American Library Association, starred review

Princenthal's style is underplayed—she, like her subject, never lends herself to theatricality. Also like Martin, Princenthal does a lot with very little. She smoothly transitions between art and life, lyricism and scholarship. . . . Martin is most famous for her minimal paintings, but Princenthal homes in on the lesser-known pockets of her career as well. Princenthal's book is thoughtful enough to feel personal...her words are in service of Martin's work and spirit.
— ARTnews

Superbly researched . . . offers the first comprehensive biography of Martin as well as a critical examination of the unusual body of work she produced during a professional career that lasted half a century.
— Hyperallergic

Rewarding. . . . [Princenthal] scrutinizes some two dozen works, tracks critical responses to Martin's art, and unpacks the artist's philosophical and religious sources. Fending off clichés about madness and creativity, Princenthal draws a careful distinction between the schizophrenic's aural hallucinations and the artist's visions.
— New York Times Book Review

Doggedly researched and gracefully written. . . . [Princenthal] shines in describing Martin's earthy good humor and dedication to her art and in capturing the atmosphere in which the artist came of age. It's the best life we have of this remarkable woman, and it will remain definitive for a long good while.
— The Wall Street Journal

Prompts us to appreciate the world around us in a new way, no longer seeing clothing as a practical necessity, but as a statement of beauty and technical perfection.
— Vogue

Presents the artist as a woman in full. . .
— WWD

the first book of its kind....I can't think of a better time to read it.
— TheNation.com
Thames & Hudson, 9780500093900, 320pp.
Publication Date: June 16, 2015
About the Author
Nancy Princenthal is a New York–based writer. A former senior editor of Art in America, where she remains a contributing editor, she has also written for the New York Times, Parkett, the Village Voice, and many other publications. She is currently on the faculty of the MFA art writing program at the School of Visual Arts. Her previous book, Agnes Martin, won 2016 PEN/ Jacqueline Bograd Weld award for biography.
or
Not Currently Available for Direct Purchase