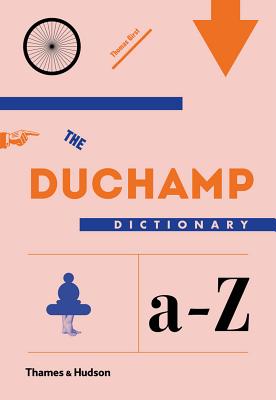 The Duchamp Dictionary (Hardcover)
Thames & Hudson, 9780500239179, 224pp.
Publication Date: May 20, 2014
* Individual store prices may vary.
Description
"Girst elegantly unravels the skeins of Duchamp's thinking. . . . An essential compendium for puzzling out an essential artist." —Richard Armstrong, Director of the Solomon R. Guggenheim Museum and Foundation
Among the most influential artists of the last hundred years, Marcel Duchamp holds great allure for many contemporary artists worldwide and is largely considered to be one of the founding fathers of modern art. Despite this popularity, books on Duchamp are often hyper-theoretical, rarely presenting the artist in an accessible way. This new book explores the artist's life and work through short, alphabetical dictionary entries that introduce his legacy in a clear and engaging way.
From alchemy and anatomy to Warhol and windows,
The Duchamp Dictionary
offers a pithy and readable text that draws on in-depth scholarship and the very latest research. Thomas Girst includes close to 200 entries on the most interesting and important artworks, relationships, people, and ideas in Duchamp's life—from
The Bicycle Wheel
and
Fountain
to Walter and Louise Arensberg, Peggy Guggenheim, Katherine Dreier, and Arturo Schwarz. Delightful, newly commissioned illustrations introduce each letter of the alphabet and accompany select entries, capturing the irreverent spirit of the artist himself.
About the Author
Thomas Girst has been Head of Cultural Engagement at the BMW Group since 2003. He was founding editor of Tout-Fait: The Marcel Duchamp Studies Online Journal and is the author of The Indefinite Duchamp. In 2012 he curated "Marcel Duchamp in Munich 1912" at the Lenbachhaus, Munich.

Luke Frost is an illustrator, printmaker, and graphic designer. He is part of Heretic, an experimental illustration and screen-printing studio founded in 2005.

Therese Vandling is an illustrator, printmaker, and graphic designer. Along with Luke Frost she is a member of of the experimental illustration and screen-printing studio, Heretic.
Praise For The Duchamp Dictionary…
One century ago Duchamp helped change the way the world considers and looks at art. . . Thomas Girst set out to illuminate the works, influence and life of Marcel Duchamp in a much less academic fashion than previous writing about the artist.

A delightful, whimsical read for the Duchamp novice and expert alike. It's likely that one would learn more from this seemingly segmented book than they would from a formal Duchamp biography. . . . accessible and visual, yet still remarkably complex.

Not only insightful, but also full of humor.

A fittingly Duchampian book that challenges one's thinking about the artist and the book. This is a reference volume that begs to be read as a novel; it is a book for specialists of modern art that will also be enjoyable to the uninitiated. Libraries should purchase two copies of this book: one to be consulted in the reference section, another to circulate so that new generations of artists and scholars will discover Duchamp through this engaging book. Highly recommended.