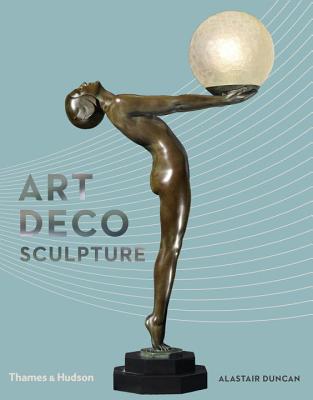 Art Deco Sculpture (Hardcover)
Thames & Hudson, 9780500239483, 408pp.
Publication Date: November 15, 2016
* Individual store prices may vary.
Description
A groundbreaking encyclopedic study of Art Deco sculpture from the 1920s and 1930s by the author of Art Deco Complete
This book showcases and puts into historical context a host of sculpted works created in the 1920s and 1930s in the decorative vernacular defined loosely today as "Art Deco." The works shown demonstrate a broad range of styles and influences: from the chevrons, sunbursts, maidens, fountains, floral abstractions, and ubiquitous biche (doe) of the Parisian geometric style to the crisp, angular patterns of the zig-zag, jazz-age, streamlined aesthetic to which architects were drawn towards 1930.
The author organizes his subject into three main categories: the first features work by avant-garde sculptors (Csaky, Janniot, Pompon, and others); the second shows commercial sculpture, comprising mainly large-edition statuary, commissioned by éditeurs d'art and foundries from sculptors as decorative works for the burgeoning 1920s domestic market; while a final, third category covers architectural and monumental sculpture from around the world.
With artists' biographies, details of manufacturers, a full glossary, and a thematic index, this volume is the essential and authoritative guide for all those interested in the Art Deco style.
About the Author
Alastair Duncan was for fourteen years associated with Christie's, New York, latterly as a Consultant. After joining the auction house in 1977, he organized and catalogued a great number of sales devoted to Art Nouveau and Art Deco and nineteenth-century decorative arts. He has acted as guest curator for exhibitions at the Smithsonian Institution, Washington, D.C., and is now an independent consultant specializing in the decocrative arts of the nineteenth and twentieth centuries. He is the author of many books, including Art Deco Furniture, Art Nouveau Furniture, American Art Deco, and Masterworks of Louis Comfort Tiffany. 
or
Not Currently Available for Direct Purchase