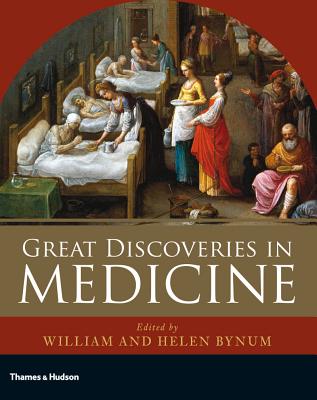 Great Discoveries in Medicine (Hardcover)
Thames & Hudson, 9780500251805, 304pp.
Publication Date: October 17, 2011
* Individual store prices may vary.
Description

In this inspiring compendium, distinguished experts from around the world explain medicine's turning points and conceptual changes, and answer a series of key questions: How did the Plague influence the course of human history? What should complementary medicine's role be? How did an audacious self-experiment lead to a cure for stomach ulcers and a Nobel Prize?

The book is magnificently illustrated with a unique array of pictures, from beautiful Renaissance anatomical drawings to the very latest computer- generated images of viruses and photographs that reveal the hidden world within our bodies.

Topics include humors & pneumas, Islamic medicine, pathological anatomy, neuron theory, bedlam & beyond, parasites & vectors, hormones, the genetic revolution, defibrillators, the endoscope, medical robots, typhus, tuberculosis, smallpox, HIV, and more.
or
Not Currently Available for Direct Purchase