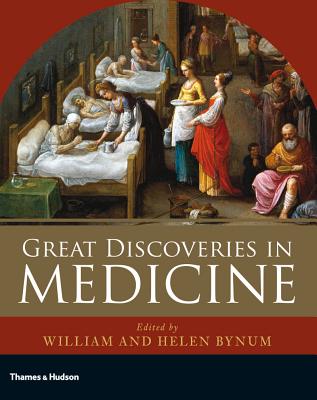 Great Discoveries in Medicine (Hardcover)
Thames & Hudson, 9780500251805, 304pp.
Publication Date: October 17, 2011
* Individual store prices may vary.
Description
An unrivaled account of the evolution of medical knowledge and practice from ancient Egypt, India, and China to the latest technology.
Sickness and health, birth and death, disease and cure: medicine and our understanding of the workings of our bodies and minds are an inextricable part of how we know who we are.
In this inspiring compendium, distinguished experts from around the world explain medicine's turning points and conceptual changes, and answer a series of key questions: How did the Plague influence the course of human history? What should complementary medicine's role be? How did an audacious self-experiment lead to a cure for stomach ulcers and a Nobel Prize?
The book is magnificently illustrated with a unique array of pictures, from beautiful Renaissance anatomical drawings to the very latest computer- generated images of viruses and photographs that reveal the hidden world within our bodies.
Topics include humors & pneumas, Islamic medicine, pathological anatomy, neuron theory, bedlam & beyond, parasites & vectors, hormones, the genetic revolution, defibrillators, the endoscope, medical robots, typhus, tuberculosis, smallpox, HIV, and more.
About the Author
William Bynum is a historian of science and medicine. He has co-written and co-edited several books with Helen Bynum including ?Great Discoveries in Medicine and ?Dictionary of Medical Biography. ??

Helen Bynum is a historian of science and medicine. She is co-editor with William Bynum of ?Great Discoveries in Medicine and ?the award-winning Dictionary of Medical Biography. ?
Praise For Great Discoveries in Medicine…
This book is engrossing, informative and leaves you appreciating the era in which we now live . . . .

A striking and informative history, this book should be the go-to gift for many medical professionals this holiday season.

Recommended.

From the Battle of Bull Run to Seal Team 6 armchair historians have a wide range of really great gifts this year.
or
Not Currently Available for Direct Purchase