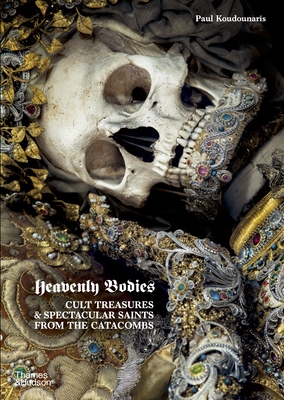 Heavenly Bodies (Hardcover)
Cult Treasures and Spectacular Saints from the Catacombs
Thames & Hudson, 9780500251959, 192pp.
Publication Date: October 8, 2013
* Individual store prices may vary.
Description
An intriguing visual history of the veneration in European churches and monasteries of bejeweled and decorated skeletons
Death has never looked so beautiful. The fully articulated skeleton of a female saint, dressed in an intricate costume of silk brocade and gold lace, withered fingers glittering with colorful rubies, emeralds, and pearls—this is only one of the specially photographed relics featured in
Heavenly Bodies
.
In 1578 news came of the discovery in Rome of a labyrinth of underground tombs, which were thought to hold the remains of thousands of early Christian martyrs. Skeletons of these supposed saints were subsequently sent to Catholic churches and religious houses in German-speaking Europe to replace holy relics that had been destroyed in the wake of the Protestant Reformation. The skeletons, known as "the catacomb saints," were carefully reassembled, richly dressed in fantastic costumes, wigs, crowns, jewels, and armor, and posed in elaborate displays inside churches and shrines as reminders to the faithful of the heavenly treasures that awaited them after death.
Paul Koudounaris gained unprecedented access to religious institutions to reveal these fascinating historical artifacts. Hidden for over a century as Western attitudes toward both the worship of holy relics and death itself changed, some of these ornamented skeletons appear in publication here for the first time.
About the Author
Paul Koudounaris received his doctorate from the art history department at UCLA. His previous books include The Empire of Death and Heavenly Bodies. He lives in Los Angeles.
Praise For Heavenly Bodies: Cult Treasures and Spectacular Saints from the Catacombs…
These macabre images elicit a range of contemporary references, from Goonies to bling-laden rappers to artist Damien Hirst's diamond-encrusted skull.

Perhaps this book is not the originator of the phrase 'skeletons in your closet,' but if it were, that closet would be looking quite stupendous.

An art historian nicknamed 'Indiana Bones' has unearthed a haunting collection of jewel-encrusted skeletons which were hidden in churches in Europe up to 400 years ago.

Photographer and author Paul Koudounaris gained unprecedented access to these so-called 'catacomb saints' for his new book Heavenly Bodies. Many had never been photographed for publication before. Revered as spiritual objects and then reviled as a source of embarrassment for the Church, their uneven history is marked by one constant: a mysterious, if unsettling, beauty.

A compelling read. . . . The gorgeous photos that accompany the text only reaffirm the opulence of such relics.

Smart and accessible, Heavenly Bodies opens the door to this largely overlooked aspect of the Counter Reformation era.


Prepared to be amazed by the splendor and beauty of ornamented skeletal remains.

Koudounaris takes his subject beyond historical rubbernecking and looks at how bodies can move the spirit—and why we can't let go and can't look away.

Brings to life a group of long-forgotten Catholic relics.

Investigates the historic attempts to prescribe posthumous identities to skeletons, specifically those believed to be martyrs.

Oh, you didn't know the skeletons of martyrs were unabashedly decked out in gems? Welcome to the club.

Focuses on the life and history of a set of false relics in the Catholic Church.

The images of the catacomb saints are dazzling, almost beyond belief.

This macabre mash-up of camp and Catholicism features nearly 100 drop-dead images of blinged-out skeletons.

A
strange and fascinating book exploring bejeweled Counter Reformation Catholic
Skeletons.

Magnificently illustrated. . . . An illuminating read for jewelry historians and gemologists alike.

The photography by Koudounaris is outstanding. He was given access that most tourists touting a camera are not.

Koudounaris is one of the first people to photograph the strangely stunning skeletons that have been rediscovered over the years. And while he can't speak to their authenticity as saints, he does believe that they are extraordinary works of art that deserve to be seen.

In telling the story of these extraordinary relics, Koudounaris makes a case for them as neglected masterpieces of religious art. . . . Koudounaris uncovers a lost world of religious devotion, in which sanctified remains could control the weather, save souls from purgatory, and serve as all-purpose patrons.