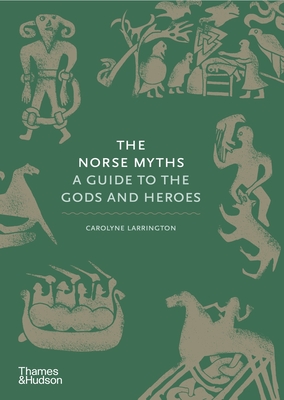 Norse Myths (Hardcover)
A Guide to the Gods and Heroes
Thames & Hudson, 9780500251966, 208pp.
Publication Date: February 14, 2017
* Individual store prices may vary.
Description
An exhilarating introduction to the vivid, violent, boisterous world of the Norse myths and their cultural legacy—from Tolkien to Game of Thrones
The Norse Myths presents the infamous Viking gods, from the mighty Asyr, led by Ó?inn, and the mysterious Vanir, to Thor and the mythological cosmos they inhabit. Passages translated from Old Norse bring this legendary world to life, from the myths of creation to ragnarök, the prophesied end of the world at the hands of Loki's army of monsters and giants, and everything that comes in between: the long and problematic relationship between the gods and the giants, the (mis)adventures of human heroes and heroines, with their family feuds, revenges, marriages, and murders; and the interaction between the gods and mortals.
Photographs and drawings show a range of Norse sites, objects, and characters, from Viking ship burials to dragons on runestones. Dr. Carolyne Larrington describes the Norse myths' origins in pre-Christian Scandinavia and Iceland, and their survival in archaeological artifacts and written sources, from Old Norse sagas and poems to the less-approving accounts of medieval Christian writers. She traces their influences into the work of Wagner, William Morris, and J. R. R. Tolkien, and even Game of Thrones in the resurrection of the Fimbulvetr, or "Mighty Winter."
About the Author
Dr. Carolyne Larrington is a supernumerary fellow and tutor in medieval English literature at St. John's College, Oxford. Her previous books include The Poetic Edda, Magical Tales: Myth, Legend and Enchantment in Children's Books, and Winter is Coming: The Medieval World of Game of Thrones. She also presented BBC Radio 4's The Lore of the Land.
Praise For Norse Myths: A Guide to the Gods and Heroes…
An accessible blend of scholarship and story, full of intriguing asides... In easily digestible chapters, well-regarded scholar Larrington addresses the gods and goddesses of the myths before offering a lineup to those they battle—the giants who roam the world.