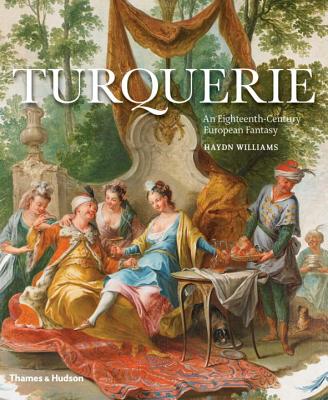 Turquerie
An Eighteenth-Century European Fantasy
Hardcover

* Individual store prices may vary.
Description
A sumptuous survey of the fashion for art, architecture, and decorative arts that evoked or imitated Turkish culture and captivated eighteenth-century Europe
This is the first book, painstakingly researched from many scattered sources, to identify the key elements of what in our own time has become a popular and collectable area of the fine art and decorative arts: turquerie. With the arrival of Ottoman embassies and their elaborate entourages at the courts of Europe in the early eighteenth century, a fascination with all things Turkish took hold among royalty and aristocracy that lasted until the French Revolution. Turbaned figures appeared in paintings, as ceramic figures, and on the stage; tented boudoirs became the rage; and crossed crescents, palm trees, and camels featured on wall panels, furniture, and enamel boxes.
Here Haydn Williams, an expert on the decorative arts, shows how it was a theme that sparked varied responses in different places. Its most intense and long-lasting expression was in France, but its reach was broad–from a pavilion built by Catherine II in Russia to the Turkish tents erected along the Elbe to celebrate a royal marriage in Dresden in 1719; from an ivory statuette of a janissary created for King Augustus II of Poland to the costumes worn for a carnival celebration in Rome in 1748.
The book is organized into eight thematic and chronological chapters that concentrate on particular subjects, such as painting, tents, interiors, and costumes and settings for the stage. In all, this splendid volume enables the reader to indulge in the whimsies and fancies of the European elite of the eighteenth century.
Praise For Turquerie: An Eighteenth-Century European Fantasy…
Lavish....Here you'll find an 18th-century toile fabric printed with camels and obelisks; a pair of 17th-century enameled hookah bowls on jade palm-tree mounts supported by more camels; and an 18th-century French perfume bottle in the form of an ivory (yes, you guessed it) camel.
— The New York Times

As Haydn Williams explains in his lavishly illustrated Turquerie, the aristocrats of Europe fell victim to a craze for all things Turkish—or, rather, for a romanticized version of Turkish life....Turquerie eventually gave way to other vogues for the exotic, but its vision of the good life remains as intriguing as ever.

— Elle Decor

From mosque follies to carnival costumes, this splendidly illustrated book examines an intriguing cultural phenomenon. —Juanita Coulson
— The Lady UK

After the Ottoman siege of Vienna has been lifted in 1683, an ancestral fear of the Turk soon yielded to fascination throughout Europe. Haydn Williams' lavishly illustrated volume gathers hundreds of examples that testify to a veritable vogue for turquerie, a fantasy no less compelling than the celebrated chinoiserie of the age.
— The Art Newspaper UK

Haydn Williams is well placed to explore this rich and evocative phenomenon ... With its sumptuous illustrations, this book would appeal to anyone interested in Ottoman culture, Orientalism, or eighteenth-century decorative arts.
— Cassone UK

Deeply researched and lavishly illustrated, this is a gorgeous book with broad appeal. —Philippa Scott
— The World of Interiors UK

A veritable—and beautiful taxonomy. . . . A fascinating glimpse into an increasingly collectible area of art.
— The Art Book UK

Marvelous.
— Literary Review

Beautifully illustrated....If you are a student of history, a serious collector, or just someone who is fascinated by this unique and little-mentioned period of dominance by the Turks, this is your book.
— Examiner.com

This sumptuous study explores 18th-century European craze for turquerie, a fantastical vision of Turkey.

— House Beautiful

Provides plenty of history to engage the mind and the senses. . . . We see how Turkish elements where interpreted and imitated by France and other European nations—a perspective that helps expose and celebrate the defining points of the Turkish aesthetic.
— Martha Stewart Living

Smart and beautifully illustrated . . . Williams does a masterly job distilling the many sophisticated histories and concepts that must be understood to fully appreciate the origins and manifestations of Turkish trends and tastes in Europe.
— Burlington Magazine UK
Thames & Hudson, 9780500252062, 240pp.
Publication Date: November 11, 2014
About the Author
Haydn Williams, formerly a director at Sotheby's, is now an independent fine art consultant.
or
Not Currently Available for Direct Purchase