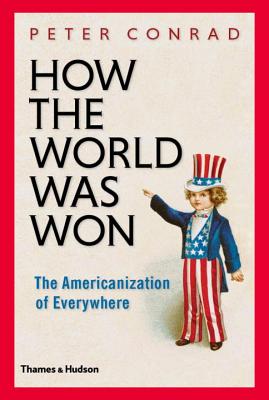 How the World Was Won (Hardcover)
The Americanization of Everywhere
Thames & Hudson, 9780500252086, 288pp.
Publication Date: December 9, 2014
* Individual store prices may vary.
Description

When America suddenly emerged as a global power in the postwar period, the world--with pockets of resistance from France, Russia, and Japan in particular--was happy to be remade in the US image. America dazzled, and sometimes intimidated, older, staler, less innovative cultures. The affluence it placed on display was something to which most other countries aspired, and it was this fantasy that helped win the Cold War.

Fast forward to today and the Chinese state news agency Xinhua, days before a possible financial default by the US government, calling for a de-Americanized world. A context for Peter Conrad's grand tale is, inevitably, politics, war, and commerce, but for the most part he draws on his brilliant repertoire of cultural skills to assess, surprise, invigorate, and delight us with his kaleidoscopic presentation of the movies and music, jeans and sneakers, food and refrigerators, novels and paintings that have shaped so much of the world in our lifetimes.
or
Not Currently Available for Direct Purchase