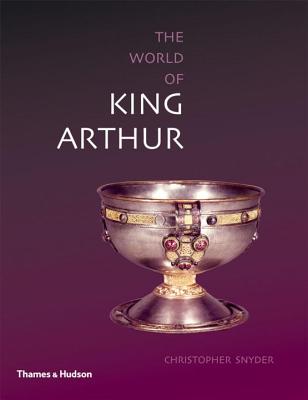 The World of King Arthur (Paperback)
Thames & Hudson, 9780500289044, 192pp.
Publication Date: February 1, 2011
Other Editions of This Title:
Hardcover (11/1/2000)
* Individual store prices may vary.
Description
A beautifully illustrated and informative survey that explores the world of Arthur and the impact of the Arthurian legends on history and the arts.
King Arthur, Camelot, Excalibur, Merlin, the Holy Grail, Lancelot, and Guinevere—the names conjure up vibrant images of medieval Europe, of chivalry, and of romance. But did Arthur really exist, or is Camelot only a dream?
Christopher Snyder examines the realities and the impact of the Arthurian legends. Medieval texts and archaeological discoveries are used to piece together a picture of the fifth and sixth centuries, when Arthur was believed to have reigned as champion of the Britons. Welsh and Breton bards sang the exploits of Arthur and his knights, in turn inspiring French poets like Chrétien de Troyes to compose the first chivalric romances of the Middle Ages. Snyder traces the development of Arthurian literature in medieval Europe, moving from Britain and France to Germany where writers brought the stories of the Grail and Tristan into association with Arthur. The nineteenth-century revival of interest in Arthur reached its height in the operas of Richard Wagner, while Camelot has found new adherents today through novels, movies, and Arthurian websites.
With its spread-by-spread layout, sidebars, timeline, and directory of Arthurian sites, this is the most thorough exploration of King Arthur's world ever published.
About the Author
Christopher Snyder is Chair of the Department of History and Politics at Marymount University in Arlington, Virginia. His books include An Age of Tyrants and The World of King Arthur.
Praise For The World of King Arthur…
The quality of the illustrations
is uniformly first rate, and
their generous use, along with
Professor Snyder's clear prose,
makes this an important addition
to the libraries of specialists
and generalists alike. . . . We are
all in Professor Snyder's debt
for his contribution of such an
important and useful study
of the Arthuriad.