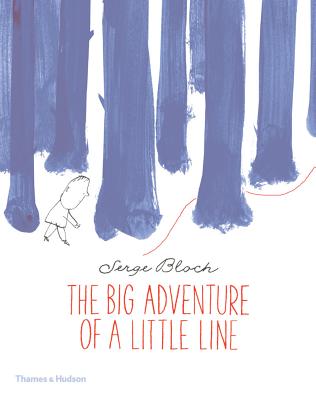 The Big Adventure of a Little Line (Hardcover)
Thames & Hudson, 9780500650585, 88pp.
Publication Date: February 15, 2016
* Individual store prices may vary.
Description
A whimsical new book from the renowned illustrator Serge Bloch
A small boy taking a walk picks up a little line he finds lying on the sidewalk. Putting it in his pocket, he forgets about it entirely. But the little line has other ideas . . .
Enter the magical, creative world of the renowned French artist, Serge Bloch, where anything can happen, and the discovery of an ordinary little line can result in the most marvelous adventure. Coming to life, the little line becomes majestic mountains, wings to fly with, a circus full of animals, flowers, a perilous tightrope, and that's only the beginning! With this classic story about an artist's becoming, children will be inspired to create their own drawings, taking simple lines and transforming them into endless possibilities.
About the Author
Serge Bloch is an internationally renowned illustrator and author from France who has contributed to over one hundred books for children and was previously the art director at Bayard Jeunesse. He is the winner of multiple awards, including the Society of Illustrators' Gold Medal and the Bologna Ragazzi Award for Nonfiction.
Praise For The Big Adventure of a Little Line…
The idea of an interactive line is not a new concept in children's literature, but the line as a metaphor for how artistic talent manifests throughout life and what that means to the artist is an interesting take on the concept. The lively ink drawings are skillful and humorous. Artists and designers may want to add this one to their personal collections.