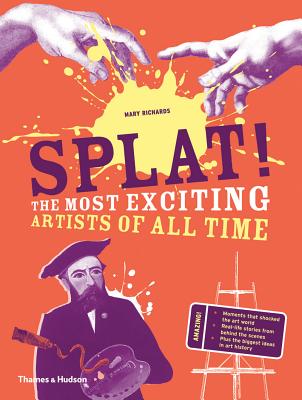 Splat! (Hardcover)
The Most Exciting Artists of All Time
Thames & Hudson, 9780500650653, 96pp.
Publication Date: May 3, 2016
* Individual store prices may vary.
Description
The stories behind some of the greatest artworks of all time, including the real life struggles and triumphs of the artists who created them
Splat!
is the history of art at its most exciting and outrageous. Organized by artist and covering both key events and major movements such as the Renaissance and Impressionism to Surrealism and contemporary art, it is a valuable resource for young people curious about art.
Each artist is introduced with bulleted facts including their country of origin, most famous works, the greatest challenges they faced in creating their art, background information, the movement they belonged to, and techniques they employed. This overview is expanded with further insight into who these artists were and how they changed the course of art. Here are Michelangelo and the High Renaissance; Bruegel and his paintings of everyday peasant life; Manet and the shock of Impressionism; and Duchamp and the Dada revolution. Children can also read the real-life stories of artists, such as Caravaggio, Jan Vermeer, Henri Rousseau, Vincent van Gogh, Wassily Kandinsky, and Frida Kahlo, who dared to imagine new ways of depicting the world.
About the Author
Mary Richards is a writer, publisher, and musician. She is the author of Ed Ruscha and Modern Art! Write Your Own Story and was previously the art publisher for the Hayward Gallery in London.
Praise For Splat!: The Most Exciting Artists of All Time…
Arranged chronologically, each chapter features a single artist who bucked convention… Plentiful reproductions make each chapter visually appealing, and a few activities sprinkled throughout help drive home the importance of the artists' stylistic innovations…The approachable tone, dossier-style pages, and plentiful visual aids will make this an easy pick for students hoping to become better acquainted with famous artists.

In the fourth book in a series that includes Eureka! and Genius!, Richards profiles 20 well-known visual artists, moving chronologically from Michelangelo to Warhol. After a brief overview of ancient art, Richards devotes four pages to each artist, providing sketches of their backgrounds and artistic goals, full-page reproductions of some of their best-known works, a few paragraphs on their upbringings and careers, and supplemental images, timelines, sidebars, and tidbits. Succinct writing provides clear snapshots of the artists' struggles, beliefs, and influence.


wonderful for budding artists of any age

in format and editorial approach, [it] is an engaging art history discussion with a contemporary feel that may well capture a young reader's interest….Even the title Splat! has a seductive buzz.

The book is a success for many reasons: it distills the most important life information about the artists, and present their work conditions, techniques, and details worth note….terrific journey through the ages

an exceptionally informative art book