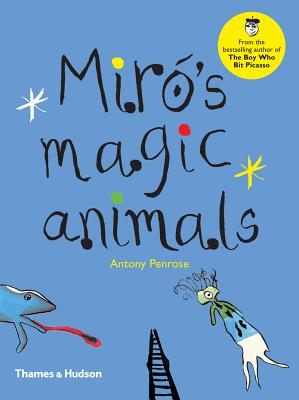 Miró's Magic Animals (Hardcover)
Thames & Hudson, 9780500650660, 48pp.
Publication Date: April 18, 2016
* Individual store prices may vary.
Description
A unique look at the work of a great artist as seen through the eyes of a child
As might be expected of the son of photographer Lee Miller and writer Roland Penrose, Antony Penrose's childhood was populated with some of the greatest artists of the twentieth century.
Miró's Magic Animals
is a delightful story, chronicling Antony "Tony"'s encounters with the great Spanish artist Joan Miró.
Tony introduces Miró as a quiet, kind, and smartly dressed man who "dreamed when he was awake" and painted wonderfully strange worlds filled with magical animals. The book brings Tony's memories to life with beautiful reproductions of some of Miró's finest works, as well as evocative archival photography by Lee Miller and specially commissioned artworks in the style of Miró, painted by children. We see the renowned painter from a new perspective, as the slightly eccentric visitor to Tony's childhood home, during an excursion to Miró's farm—filled with extraordinary creatures—and on a trip to London Zoo, during which Miró asked to see "large birds, snakes, and strange creatures of the night." Vibrant design and playful typography make the package as appealing as the story, and round out the feeling that we're immersed in Tony's adventure.
About the Author
Antony Penrose is the son of Lee Miller and Roland Penrose and is director of the Lee Miller Archives and The Penrose Collection. His other books include The Lives of Lee Miller, Lee Miller's War, and the acclaimed children's book, The Boy Who Bit Picasso. He lives in Sussex.
Praise For Miró's Magic Animals…
Lively… [Antony] Penrose invites children ages 4-8 to look closely at the work of painter Joan Miró, and recounts a trip with the famed Catalan to the London Zoo.

This unique book is a must-have for art lovers and the budding artist or art aficionado.

Charming… This title makes Miró's work feel as though it were created just to delight the imagination of children. Readers gain an understanding of what the artist looked like, how he worked, and the animals he looked at to make his work. Throughout, a peppering of children's illustrations support the idea of embracing the unusual and wondrous.

This is a wonderful and very personal account of the great Spanish artist, Joan Miró.