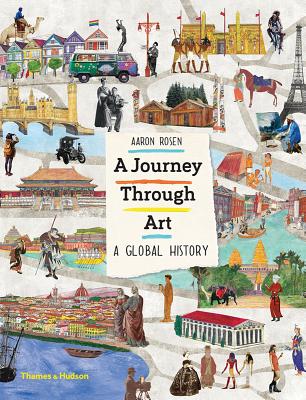 A Journey Through Art (Hardcover)
A Global History
Thames & Hudson, 9780500651018, 144pp.
Publication Date: April 3, 2018
* Individual store prices may vary.
Description
A Journey Through Art is a global history of art with a time- travel twist, taking young readers on a expedition from the Paleolithic period to the present day, voyaging to thirty locations around the world. As readers travel from one incredible destination to the next, they discover the amazing network of caves carved into the rock in AD 500 at Ajanta, India; Cambodia's Angkor Wat as it stood in AD 1200; the glories of Renaissance Florence in AD 1500; and the remarkable energy of New York in the 1950s. At every location readers encounter stories of artworks and the cultures that surrounded them.
The journey is chronological with three sections: prehistoric and ancient; medieval and early modern; and modern and contemporary. Two beautifully illustrated spreads showcase each destination, allowing children to engage with the art, artifacts, and culture of a unique place in time as Aaron Rosen tells the story of how art developed across the world.