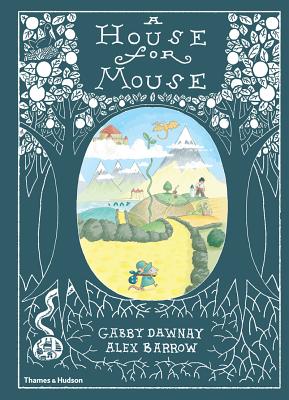 A House For Mouse (Hardcover)
Thames & Hudson, 9780500651377, 32pp.
Publication Date: October 2, 2018
* Individual store prices may vary.
Description
In this delightful picture book, a little gray mouse goes on a journey to find a new home, encountering all of the great fairytale houses—from Old Mother Hubbard's shoe to Sleeping Beauty's castle—along the way. 
In a faraway land, a little gray mouse leaves his tiny hole in search of a new home. On his journey, he unwittingly encounters some of the biggest stars in the fairytale genre. He discovers a house shaped like a shoe (belonging to Old Mother Hubbard), which he concludes would be too noisy; he dines with a little pig in a house made of straw (awfully breezy); is flummoxed by a tower with no door (Rapunzel's); and dares to take a nibble from a most remarkable house made of gingerbread (narrowly missing Hansel and Gretel).
The little gray mouse is about to give up when he comes face to face with the most spectacular house of all: a glorious castle (Sleeping Beauty's). Its ballrooms, turrets, and drawbridge win him over, but he finds himself feeling alone, until— surprise!—his friends from the forest and all those he has met along the way come to the castle, where they feast and dance, and the little gray mouse learns that it is family and friends that turn a house into a home.
Children will delight in this fun, rhyming story with all of its rich references to well-known fairy tales. 
About the Author
Gabby Dawnay is a writer and poet. She is a regular contributor to OKIDO magazine and a scriptwriter for children's television.

Alex Barrow is a London-based illustrator and both the art director and a regular contributor at OKIDO magazine.
Praise For A House For Mouse…
A mouse ventures out in search of a new home and finds several abodes from well-known fairy tales aren't exactly to his liking in this rhyming picture book… The crayon drawings are whimsically Grimm while the text keeps things bright.

The very first thing that strikes you about A House for Mouse is the beautifully illustrated cover and the quality of the book jacket...A perfect story to read aloud.