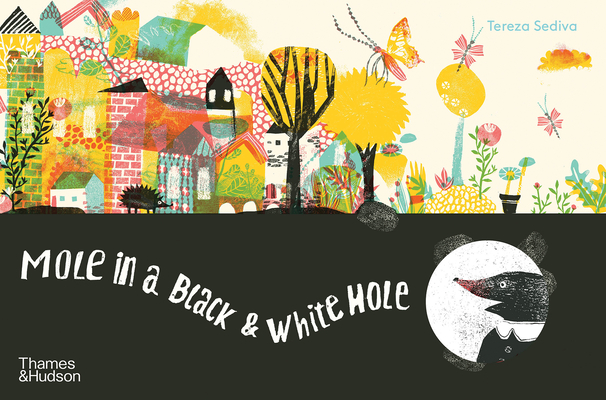 Mole in a Black & White Hole
Hardcover

* Individual store prices may vary.
Description
An imaginative, charming tale about searching for beauty and light in the world around us.
When Mole looks around his underground home, all he sees is the black- and-white world of his cold, dark hole. Mole digs and digs, dreaming of finding something colorful at the end of one of his tunnels, but day after day, he is disappointed. One day, as Mole continues to search, he finds a pink radish poking through the top of his tunnel like a chandelier. Delighted with the knowledge that the world isn't just black and white, he starts to talk to his chandelier about the world above. He learns that the world is full of colors! As Mole listens to his chandelier describe life aboveground, he imagines bright clothes, red roofs, vibrant green trees, pastel flowers, and the blush of the sun as it sinks through the sky.
The next morning, Mole wakes to find his chandelier is gone, leaving a hole in its place. He is so upset at first that it takes him a moment to realize how bright his home has become. Searching for his chandelier, he crawls out of his black-and-white hole into the world above and discovers a place more colorful than he ever dreamed possible.
Packed with vivid colors and striking illustrations, Mole in a Black-and-White Hole tells a charming tale about what awaits us when we seek out the light in the darkness.
Praise For Mole in a Black & White Hole…
Odd and oddly affecting, Mole's story catches the eye and captures the heart.
— Kirkus Reviews

The moral of this modern fable? Don't be afraid to venture out and explore all of the world's beauty.
— Lolly Gepson - Booklist

Distinguishes itself with its bravura art... Mole in a Black & White Hole succeeds as both a parable and an art object... Nearly every page is a stunner... [A] radiant picture book.

— Shelf Awareness

Mole in a Black & White Hole teaches us that if we can get out of our comfort zone we might be surprised at the wonders around us. A nice book with a great lesson.

— Lisa Gammon Olson - New York Journal of Books

A beautiful, cleverly-designed tale of faith, trust, and friendship... Top-notch design.

— Let's Talk Picture Books
Thames & Hudson, 9780500652053, 32pp.
Publication Date: March 2, 2021
About the Author
Tereza Sediva is a Czech illustrator living in Prague, with an MA in children's book illustration from the Cambridge School of Art. She is the cofounder, with Momoko Kudo, of Moles in Holes, producing illustrated stationery, toys, and accessories for the home. Mole in a Black-and-White Hole is her first book.