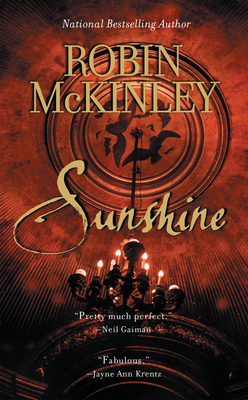 Sunshine (Mass Market)
Berkley, 9780515138818, 416pp.
Publication Date: November 30, 2004
Other Editions of This Title:
Digital Audiobook (12/7/2008)
Paperback (4/29/2010)
Pre-Recorded Audio Player (10/1/2009)
Paperback (10/7/2008)
Hardcover (9/30/2003)
Compact Disc (12/1/2008)
MP3 CD (12/1/2008)
Compact Disc (12/1/2008)
* Individual store prices may vary.
Description
From award-winning and national bestselling author, Robin McKinley, comes this dark, sensual vampire fairy tale. "A gripping, funny, page-turning, pretty much perfect work of magical literature."--Neil Gaiman

"Sunshine" is what everyone calls her. She works long hours in her family's coffeehouse, making her famous "Cinnamon Rolls as Big as Your Head," Bitter Chocolate Death, Caramel Cataclysm, and other sugar-shock specials that keep the customers coming. She's happy in her bakery—which her stepfather built specially for her—but sometimes she feels that she should have life outside the coffeehouse. One evening she drives out to the lake to get away from her family, to be alone. There hasn't been any trouble at the lake for years.

But there is trouble that night for Sunshine. She is abducted by a gang of vampires who shackle her to the wall of an abandoned mansion, within easy reach of a figure stirring in the moonlight. Sunshine knows that he is a vampire and that she is to be his dinner. Yet when dawn breaks he has not attempted to harm her.

And now he needs her help to survive the day...
About the Author
Robin McKinley has won various awards and citations for her writing, including the Newbery Medal for The Hero and the Crown and a Newbery Honor for The Blue Sword. Her other books include Sunshine; the New York Times bestseller Spindle's End; two novel-length retellings of the fairy tale Beauty and the Beast, Beauty and Rose Daughter; and a retelling of the Robin Hood legend, The Outlaws of Sherwood. She lives with her husband, the English writer Peter Dickinson.
Praise For Sunshine…
"
Sunshine
is a gripping, funny, page-turning, pretty much perfect work of magical literature that exists more or less at the unlikely crossroads of
Chocolat,
Interview With a Vampire, Misery, and the tale of Beauty and the Beast. It's not quite SF, and it's not really horror, and only kind of a love story, and it's all three while still being solidly Fantastique. It also does that nice thing where the author assumes the readers are smart, and she treats us like we're smart, and we purr and get smarter and work harder for all that."-Neil Gaiman, New York Times bestselling author
"Fabulous, fascinating, and a whole lot of fun. Step into Robin McKinley's thrilling, beautifully described world, where you will meet some interesting vampires and a lady who can deal with the creatures of the night."
—Jayne Ann Krentz
"I had no idea that blood and dessert could go together so well. I loved it!"—Amber Benson, "Tara" on Buffy the Vampire Slayer
"Buffyesque baker Rae "Sunshine" Seddon meets Count Dracula's hunky Byronic cousin in Newbery-Award-winner McKinley's first adult-and-then-some romp through the darkling streets of a spooky post-Voodoo Wars world...Most of the charm of this long venture into magic maturation derives from McKinley's keen ear and sensitive atmospherics, deft characterizations and clever juxtapositions of reality and the supernatural...McKinley knows very well—and makes her readers believe—that 'the insides of our own minds are the scariest things there are.'"—Publishers Weekly (Starred Review)
"Smart, dark, and riveting. Sunshine is quite possibly the best vampire book published in my lifetime." -Melissa Marr, bestselling author of Wicked Lovely

"A luminous, entrancing novel with an enthralling pair of characters at its heart." –Booklist

"A smart, funny tale of suspense and romance." –San Francisco Chronicle

"Before reading Sunshine, I had no idea that blood and dessert could go together so well." –Amber Benson

"McKinley [balances] the dark drama with light touches of humor. Fans of Buffy the Vampire Slayer will feel at home, but McKinley's novel has its own originality and depth." –Orlando Sentinel

"A dark, sensual vampire fairy tale." –This Week Newspapers (Ohio)

"Sunshine has magic in every word." –Sherrilyn Kenyon, New York Times bestselling author

"Sunshine takes everything we have always known about the menacing eroticism of pale men with sharp teeth and throw it up into the air." –Time Out