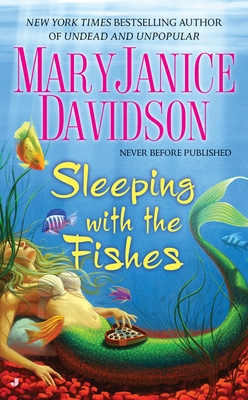 Sleeping with the Fishes (Fred the Mermaid #1) (Mass Market)
Berkley, 9780515142228, 304pp.
Publication Date: November 28, 2006
* Individual store prices may vary.
Description
Fred is a mermaid. But stop right there. Whatever image you're thinking of right now, forget it. Fred is not blonde. She's not buxom. And she's definitely not perky. In fact, Fred can be downright cranky. And it doesn't help matters that her hair is blue.
 
Being a mermaid does help Fred when she volunteers at the New England Aquarium. But, needless to say, it's there that she gets involved in something fishy. Weird levels of toxins have been found in the local seawater. A gorgeous marine biologist wants her help investigating. So does her merperson ruler, the High Prince of the Black Sea. You'd think it would be easy for a mermaid to get to the bottom of things. Think again…
About the Author
MaryJanice Davidson is the New York Times bestselling author of the Undead novels featuring Betsy Taylor; Derik's Bane, and the new young adult novels featuring Jennifer Scales, written with her husband, Anthony Alongi, among other titles.