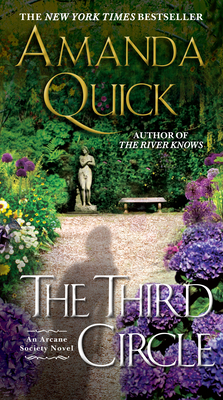 The Third Circle (Mass Market Paperbound)
Jove Books, 9780515146035, 433pp.
Publication Date: April 1, 2009
Description
New York Times bestselling author Amanda Quick presents an Arcane Society novel that reveals the passionate--and paranormal--secrets of proper Victorian London.
Attempting to recover a relic stolen from her family years ago, gifted crystal worker Leona Hewitt secretly makes her way into Lord Delbridge's private museum. But who she finds there is more entrancing than the crystal she seeks.
Thaddeus Ware is a mesmerist with powerful psychic energy--that doesn't seem to be affecting the woman before him. Instead, Leona seems to exert a rather hypnotic power over the hypnotist himself. After she gives him the slip, absconding with the crystal they recovered, Thaddeus fears for her safety. For he is on assignment for the secretive Arcane Society and knows that the crystal holds the potential for great destruction. It is the key to Lord Delbridge's membership in a shadowy group known as the Third Circle. The nobleman killed before to acquire the crystal, and Thaddeus has no doubt that he will kill again.
-Quick deftly distills intrigue, romance and a dash of the paranormal into a beguiling story.---Chicago Tribune
-The latest in Quick's delightfully original, paranormal-spiced Arcane Society series is another dazzling combination of superbly realized characters, an intrigue-studded plot, and spellbindingly sexy romance.---Booklist
-Mystery, danger and the otherworldly come together in this compelling read.---BookPage
About the Author
Amanda Quick is a pseudonym for Jayne Ann Krentz, the author of more than fifty New York Times bestsellers. She writes historical romance novels under the Quick name, contemporary romantic suspense novels under the Krentz name, and futuristic romance novels under the pseudonym Jayne Castle. There are more than 35 million copies of her books in print.
Advertisement