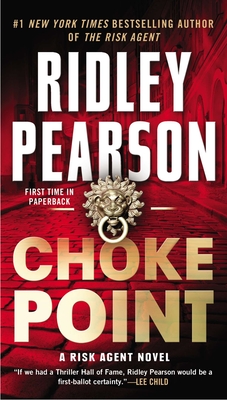 Choke Point (Mass Market Paperbound)
Jove Books, 9780515154641, 433pp.
Publication Date: April 29, 2014
Description
The new Risk Agent novel from the #1 New York Times bestselling author Private security firm Rutherford Risk's new client is a philanthropist with a headline-making cause: to locate and shut down an Amsterdam-based sweatshop that uses enslaved girls as forced labor. Enter import/export entrepreneur John Knox, with his former combat experience--and forensic accountant Grace Chu, who can trap and trace even the most sensitive financial information. Working through the picturesque streets and canals of Amsterdam, Knox and Grace face Middle Eastern mobsters, the owner of a local brothel and police officers they don't trust. Pursuing one young girl who holds the key to their investigation, but is either too afraid or in too deep to help them, they encounter the dark side of a secret world where would-be allies are enemies, and the victims themselves don't want to be saved.
About the Author
Ridley Pearson is the author of more than two dozen crime novels, including the New York Times bestsellers Killer Summer, Killer View, and Probable Cause. He is also the author of the bestselling Lou Boldt crime series, and the young reader series The Kingdom Keepers. In 1990, Pearson was awarded the Raymond Chandler Fulbright Fellowship at Wadam College, Oxford. In 2009, he was a visiting professor at Fudan University in Shanghai.
Praise For Choke Point…
Praise for the Risk Agent Novels
"A new reading addiction..." —BookReporter.com

Choke Point

"Plenty of action and some steamy sex help make the pages fly by."—Publishers Weekly

"Another compelling thriller…a winner."—Library Journal

"The action is…nonstop."—Kirkus Reviews

The Risk Agent

"Brace yourself for a thrilling afternoon."—Chicago Tribune

"A stunning new international thriller series."—St. Augustine News

"A cunning thriller…Fans will want more, and soon."—Kirkus Reviews

"Thriller fans will look forward to seeing more of Knox."—Publishers Weekly

"Rich with the atmosphere…breathtaking suspense."—Library Journal (starred review)

"The perfect summer read."—Christian Science Monitor

"Full of action, twists and turns, double crosses, and good old-fashioned thrills."—BookReporter.com

Further praise for Ridley Pearson and his novels:

"A multilayered thriller."—Houston Chronicle

"[A] page-turner."—The Seattle Times

"[An] edge-of-your-seat crime novel."—Tucson Citizen

"Pearson can plot a heist with ingenuity and delicious complexity."—St. Louis Post-Dispatch

"A gripping page-turner of a novel."—Rocky Mountain News

"A master of that all-too-rare book: the read that is both exciting and intelligent."—The Associated Press

"Ridley Pearson has outdone himself."—James Patterson

"Ridley Pearson writes thrillers…that try to yank you to the edge of your seat and keep you there."—Boston Sunday Globe

"Ridley Pearson…[is] fully worthy of comparison to Michael Connelly."—Scott Turow

"Consummate entertainment."—The Baltimore Sun

"Ridley Pearson packs a wallop."—The Cincinnati Enquirer

"If we had a Thriller Hall of Fame, Ridley Pearson would be a first-ballot certainty, both for his technical virtuosity and his intensely human stories."—Lee Child

"You'll never go through a faster three hundred pages."—St. Louis Post-Dispatch

"Irresistible, pulse-pounding."—Seattle Post-Intelligencer
Advertisement