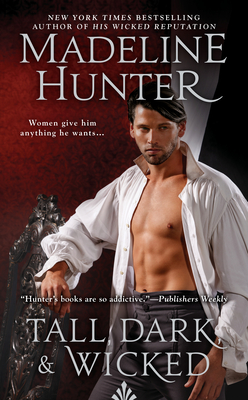 Tall, Dark, and Wicked (Mass Market Paperbound)
Berkley Books, 9780515155174, 400pp.
Publication Date: October 6, 2015
Description
A wickedly wonderful new romance from the New York Times bestselling author of His Wicked Reputation
Most women will give him anything he wants. She is not most women...
As a well-known barrister and the son of a duke, Ives confines his passionate impulses to discreet affairs with worldly mistresses. A twist of fate, however, has him looking for a new lover right when a fascinating woman shows up in his chambers, asking him to help save her father from the gallows. Unfortunately, he has already been asked to serve as the prosecutor in the case, but that only ensures close encounters with the rarity named Padua Belvoir. And every encounter increases his desire to tutor her in pleasure's wicked ways...
Having always been too tall, too willful, and too smart to appeal to men, Padua Belvoir is shocked when Ives shows interest in her. Knowing his penchant for helping the wrongly accused, she had initially thought he might be her father's best hope for salvation. Instead, he is her worst adversary--not least because every time he looks at her, she is tempted to give him anything he wants...
About the Author
Madeline Hunter is a two-time RITA award winner and seven-time finalist, and has twenty-five nationally bestselling historical romances in print, including The Accidental Duchess, The Counterfeit Mistress, and The Conquest of Lady Cassandra. A member of RWA's Honor Roll, her books have been on the bestseller lists of the New York Times, USA Today, and Publishers Weekly. More than six million copies of her books are in print and her novels have been translated into thirteen languages. Madeline is a regular contributor on USA Today's Happily Ever After blog with her Romance Unlaced column. She has a PhD in art history, which she teaches at the university level.
Advertisement