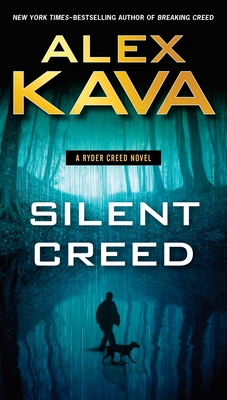 Silent Creed (A Ryder Creed Novel #2)
Paperback

* Individual store prices may vary.
Other Editions of This Title:
Digital Audiobook (7/27/2015)
Hardcover, Large Print (8/5/2015)
Hardcover (7/28/2015)
Description
Ryder Creed and his K9 search-and-rescue dogs return in the second installment of this exciting series, teaming up once more with FBI profiler Maggie O'Dell in their riskiest case yet.
 
When Ryder Creed responds to a devastating mudslide in North Carolina, he knows that the difference between finding survivors and the dead is time. He and his sturdiest search-and-rescue dog, Bolo, get to work immediately, but the scene is rife with danger: continued rainfall prevents the rescue teams from stabilizing the land; toxic household substances spread by the crushing slide fill the area with hazardous waste; and the detritus and debris are treacherous for both man and dog to navigate. But most perilous are the secrets hidden under the mud and sludge—secrets someone would kill to protect. For this is no ordinary rescue mission. Among the buildings consumed by the landslide was a top-secret government research facility, and Creed has been hired to find what's left of it. 

Then rescuers recover the body of a scientist from the facility who was obviously dead before the landslide—killed by a gunshot to the head. The FBI sends Agent Maggie O'Dell to investigate, and she and Creed are soon caught in a web of lies, secrets, and murder that may involve not only the government facility, but decades-old medical experiments that are the subject of current congressional hearings. As more bodies are found under even more unusual circumstances, they come ever closer to exposing the truth—but with unknown forces working against them, Maggie, Creed, and the dogs are running out of time.
Praise For Silent Creed (A Ryder Creed Novel #2)…
Praise for Silent Creed

"Thrill lovers, prepare to be taken on a ride!...With twists, turns, and suspense galore, Breaking Creed and Silent Creed are near impossible to put down. Guaranteed to keep you up all night!"—Modern Dog

"Exciting...Creed is a multifaceted character whose hidden depths are only barely revealed in this intense thriller, which builds to an explosive conclusion."—Publishers Weekly

"Producing an engrossing, suspense-filled, completely original mystery entwining dozens of trustworthy and dishonest characters in three separate locations could be messy, but Alex Kava's dexterity as an accomplished thriller writer shines upon the pages of her latest novel...After finishing Kava's latest addictive installment, you'll immediately want to dive into another adventure starring O'Dell, Creed and the dogs."—Lincoln Journal Star
 
"If the reader loves mystery and danger with a cast of characters that range from the brave to the beautiful, this is the summer book of all summer books. This may be only the second tale of Ryder Creed, but it is a guarantee readers will be screaming for more. The plotline is all about intrigue and action, and the connection between Ryder and Bolo is one that all true animal lovers will understand. 5 Stars!"—Suspense Magazine
 
"Combines a riveting mystery, a backstory of military dog handlers, and rescue dogs...Silent Creed has an intense storyline along with details about rescue operations, the difficulties faced by returning military personnel, and the importance of dogs in people's lives. Anyone who loves dogs should read these books."—Crimespree Magazine

More Praise for Alex Kava

"Breaking Creed simply blew me away, mostly with the introduction of a character who can finally and truly stand toe-to-toe with O'Dell. Ryder Creed—along with his dogs!— is a true inspiration:  tough, smart, dynamic.  The pairing of Creed and O'Dell elevates this thriller to the next level. For any dog lover, it's a must-read. For any lover of nail-biting suspense, it's a book you'll not be able to put down. Get it now!"—New York Times bestselling author James Rollins
 
"[Contains] vivid and engaging detail about how dogs are trained and how they behave on the job. Grace and Creed's other dogs become distinct personalities....[A] highly original novel."—Florida Weekly
 
"Creed is special, a memorable character—he trains homeless dogs to sniff out contraband and hunt criminals. When he teams up with Kava's iconic FBI forensics specialist Maggie O'Dell, you'll discover the most exciting crime-solving duo of the year."—New York Times bestselling author Gayle Lynds
 
"With Creed, his partners and special dogs, the author has given us a cast of new players to meet and get to know....A nail-biting, can't-put-it-down mystery."—Omaha World-Herald

"Breaking Creed has a very fast-paced and thrilling plot with many twists and turns. For any dog lover this is a must-read. [Readers] can also just enjoy the tough, smart, and dynamic characters of this series."—Crimespree Magazine
G.P. Putnam's Sons, 9780515155945, 368pp.
Publication Date: January 5, 2016
About the Author
Alex Kava is the New York Times bestselling author of several novels, including the Ryder Creed series and the internationally bestselling mystery series featuring FBI profiler Maggie O'Dell. Her novels have been published in more than twenty countries around the world. She is a member of International Thriller Writers and divides her time between Omaha, Nebraska, and Pensacola, Florida.
or
Not Currently Available for Direct Purchase