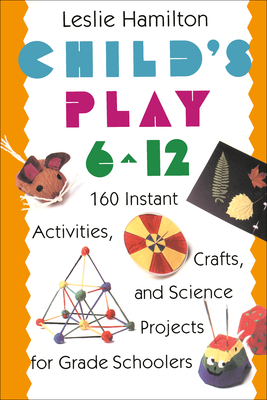 Child's Play 6-12: 160 Instant Activities, Crafts, and Science Projects for Grade Schoolers (Paperback)
160 Instant Activities, Crafts, and Science Projects for Grade Schoolers
Three Rivers Press (CA), 9780517583548, 228pp.
Publication Date: November 10, 1998
Description
Take a discarded walnut shell and make a boat. Create a balloon barometer. Go on a backyard scavenger hunt. Test common foods for starch or vitamin C. Sew a mini-backpack. Make a safe and easy costume for Halloween or the school play. All of these ideas and more are featured in Child's Play 6 -- 12, a wonderful collection of quick and easy-to-make projects, activities, and games for those not-so-easy-to-please grade schoolers whose frantic cries of -there's nothing to do - are only slightly less unnerving than -Mom I've got a science project due tomorrow
Child's Play 6 -- 12 will be the only first aid parents need to handle project emergencies, create memorable gifts and parties, or simply bear the boredom blues. The clear, straightforward instructions and charming line drawings are sure to make this book your hands-on guide to creativity.
About the Author
Leslie Hamilton has worked with children in preschoolers, elementary schools, and scouting. She is the author of Child's Play: 200 Instant Crafts and Activities for Preschoolers. She lives in New Hampshire with her husband and two children.
Advertisement