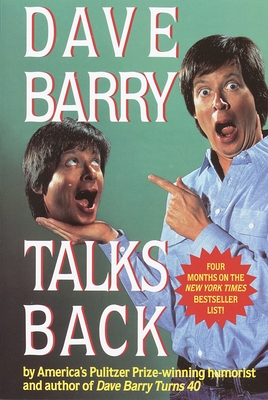 Dave Barry Talks Back (Paperback)
Three Rivers Press (CA), 9780517588680, 304pp.
Publication Date: May 12, 1992
Description
Yet another collection of wit and wisdom by Pulitzer Prize-winning humorist and author Dave Barry. This collection of essays explores a range of topics including traffic cops, dentists, and Congress. "Want to impress your friends? Tell them you read the latest work by the 1988 Pulitzer Prize-winner for commentary. Just don't tell them it's full of booger jokes."--Orange County Register.
About the Author
From 1983 to 2004, Dave Barry wrote a weekly humor column for The Miami Herald, which in 1988 won a Pulitzer Prize for Commentary. He is the author of more than thirty books, including such bestsellers as the nonfiction Live Right and Find Happiness (Although Beer Is Much Faster), You Can Date Boys When You're Forty, and I'll Mature When I'm Dead; the novels Big Trouble, Tricky Business, and Insane City; the very successful YA Peter Pan novels (with Ridley Pearson); and his Christmas story The Shepherd, the Angel, and Walter the Christmas Miracle Dog. Two of his books--Big Trouble and Dave Barry's Guide to Guys--have been turned into movies. For a while, his life was even a television series, Dave's World, but then it was canceled. The series. Not the life. For many years, Dave was also a guitarist with the late, infamous, and strangely unlamented band the Rock Bottom Remainders.
Advertisement