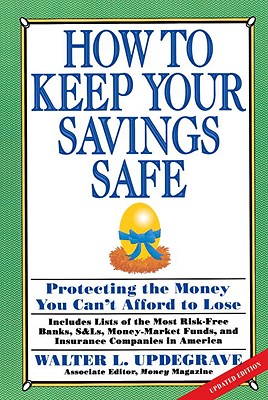 How to Keep Your Savings Safe: Protecting the Money You Can't Afford to Lose (Paperback)
Protecting the Money You Can't Afford to Lose
Three Rivers Press (CA), 9780517881385, 244pp.
Publication Date: January 19, 1994
Description
Suddenly, the places you thought your money was absolutely, positively safe don't seem so safe anymore. Banks are failing at the rate of one every two days. The FDIC's bank insurance fund is on the verge of bankruptcy. Once rock-solid insurance companies are being seized by state regulators. Are you sure your savings are truly secure? How to Keep Your Savings Safe will help you develop a safe savings strategy by revealing the potential hazards associated with bank deposits, money-market funds, annuities, guaranteed-investment contracts, and other traditionally "safe" investments. Today, especially when investing funds for college tuition, retirement, or the down payment on a house, Americans need to know more about the vulnerability of their savings. How to Keep Your Savings Safe includes lists of the most risk-free banks, S&Ls, money-market funds, and insurance companies, in America. "Timely, clear, and very specific."--Publishers Weekly.
About the Author
Walter Updegrave has been covering the financial markets and writing about saving and investing for retirement for nearly 20 years. He is a senior editor of Money magazine and the Ask the Expert columnist on AOL Personal Finance and CNNMONEY.com, where he provides straightforward, unbiased advice about every aspect of retirement planning.
Advertisement